Are you a skilled carpenter with a passion for creating beautiful and functional spaces? Do you enjoy working with your hands and taking on challenging projects? If so, we invite you to apply for the Carpenter position in Dubai, Abu Dhabi, Sharjah, Ajman, Ras al Khaimah, and all over UAE.
As a Carpenter, you will be responsible for a variety of tasks including measuring, cutting, and installing wood and other building materials, interpreting blueprints and plans, and ensuring that projects are completed on time and to high standards.
At our company, we value our employees and strive to create a supportive and positive work environment. We offer competitive salaries and benefits, opportunities for career growth and advancement, and a dynamic and diverse team.
If you are looking for a rewarding and challenging career in the construction industry, we encourage you to apply for the Carpenter position in UAE. We look forward to receiving your application and learning more about how you can contribute to our team.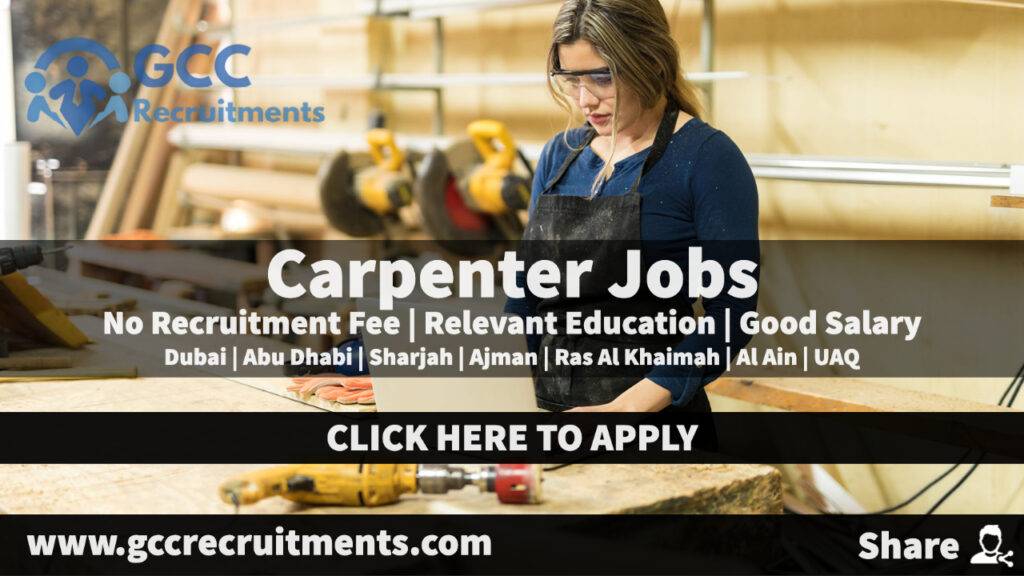 Carpenter position is assigned to perform carpentry and painting jobs. This position would be responsible for the maintenance and repair of interior design, furniture, fixtures and equipment (FF&E) cosmetic appearances for the hotel facility. Examples would include wood finishes, painted surfaces, vinyl wall coverings, glass and carpet. He will be responsible for the completion of other services or duties as requested by the Civil Supervisor, PPM or Maintenance Engineers
CARPENTER JOB ROLES & RESPONSIBILITIES
Performs works following safe work practices and procedures
Responds immediately to all work requests which concern Health and Safety
Ensures environmentally friendly practices are followed when handling chemicals, paints, varnishes, strippers, and other finishing products
Responds to guest requests promptly in a professional and courteous manner
Maintains and repairs all civil, interior design, and Furniture, Fixtures & Equipment finishes
Ensures the optimum condition and appearance all civil, interior design, and Furniture, Fixtures & Equipment finishes by following the preventive maintenance program
Evaluates and appropriately responds to equipment usage
Completes all work orders with due diligence
Daily Maintains the Civil log book highlighting problems and solutions; and activities
Maintain equipment catalog and finishes/color directories
Actively participates in the monthly departmental meeting by providing feedback and offering suggestions for improvement
Completes tasks as assigned by Civil Supervisor, PPM or Maintenance Engineers.
Reports and documents potential safety hazards
Participates as directed in the emergency response team
Carpenter Job Qualifications
PERSONAL ATTRIBUTES
Proficient in all manner of carpentry, interior design and FF&E repair, refurbishment, and maintenance plus basic knowledge of one other building operations skill set.
The ability to use all general repair tools, read shop drawings and specifications, make rough estimates of required materials.
operations and able to translate them
The ability to work independently with good interpersonal skills
A creative, practical and pro-active approach to problem solving
An energetic and dynamic personality
QUALIFICATIONS
High School graduate, related technical or trades certification
Available Carpenter Job Vacancies
Career in Imdaad Facilities (4 Nos.)
1) Chiller Technician
3) Electrical Technician
4) Carpenter/Painter
5) BMS Operator
Company: Imdaad Facilities Management
Work Location: Abu Dhabi
Qualification: ITI or Diploma in relevant trade.
Experience: 3 – 5 years in a similar role.
Skills: good communication skills in English is a must.
Availability: Able to Join Immediately.
Interview Details:-
Date: 21st Setp 2023
Timing: 08:30 AM (Fixed)
Location:  Imdaad Staff Accommodation Building 8, Near Paris Cafeteria,
Behind Danube Home,
Mussafah 25, Abu Dhabi.
Required Skilled Labours – Contracting Company in Sharjah
1) Indian Laborers
2) Helpers
3) Mason
4) Carpenter
Call: 055-2244755
Job Publishing Date: 6th September 2023
Project Manager/ Site Engineer/ Estimation Engineer/ Shuttering Foreman/ Reinforcement Foreman/ Mason Foreman/ General Maintenance Engineer
1) Project Manager
2) Site Engineer
3) Estimation Engineer
4) Shuttering Foreman
5) Reinforcement Foreman
6) Mason Foreman
7) General Maintenance Engineer
Sector: Dubai Construction Company
Experience: All candidates should have a relevant minimum of 2 years experience in IJAE/GCC.
WhatsApp: 055-4388655
Send CV Email: [email protected]
Job Publishing Date: 2nd September 2023
Also Checkout:-