Looking for IT Administrator Jobs in Dubai, Abu Dhabi, Sharjah, Ajman, Ras al Khaimah etc.? Browse our latest listings and find the perfect role for you. With a variety of opportunities available, we can help you take the next step in your IT career. Apply now and start your journey towards success!
Looking for IT Administrator to be responsible and key accountable for the smooth running of our IT department systems within the limits of requirements, specifications, costs, and timelines. You will supervise the implementation and maintenance of our company's computing needs. The successful candidate will have improved skills, proven professional experience and detailed knowledge of the industry with the best talent practice processes.
Checkout: Administrative Jobs in Dubai and Around UAE
IT Administrator Jobs in Dubai, Abu Dhabi, Sharjah Around UAE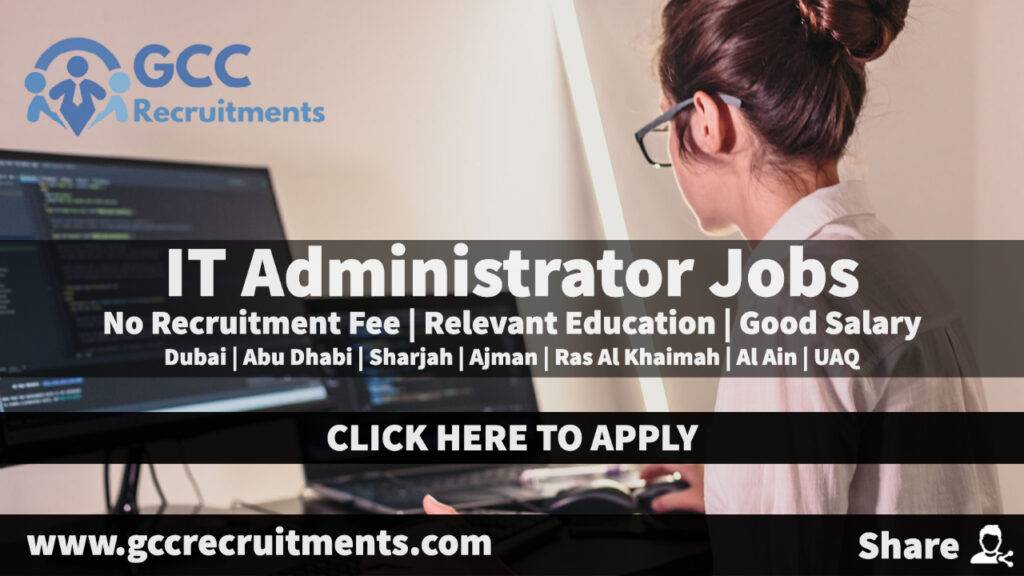 IT Administrator Job Responsibilities:
Manage information technology and computer systems
Plan, organize, control and evaluate IT and electronic data operations
Design, develop, implement and coordinate systems, policies, and procedures
Ensure security of data, network access, and backup systems
Act in alignment with user needs and system functionality to contribute to organizational policy
Identify problematic areas and implement strategic solutions in time
Audit systems and assess their outcomes
Preserve assets, information security and control structures
Vendor management
Access control, Issuing tickets.
Coordinating with different branches
Handle annual budget and ensure cost-effectiveness
Working in a cloud system.
Project Handling skills.
Working on ERP Systems like SAP is an added advantage.
IT ADMINISTRATOR responsibilities Include:
Managing information technology, communication, and computer systems, with IT infrastructure and architecture and network handling knowledge
Controlling and evaluating it and electronic data operations
Managing people management Job brief
Checkout: Walk in Interview in Dubai Today & Tomorrow
Available IT Administrator Jobs
IT Administrator in Dubai
Employment type: Full Time
Experience: 3 to 5 year
Qualification: Bachelor's Degree holder
Salary: AED 4000 to 5000
Location: Dubai, United Arab Emirates
Company: Confidential
Important Announcement- The candidate must be in UAE and ready to join immediately.
Scope of work:-
Firewall
window server
Active Directory, DHCP, DNS
CCTV, NAS Storage, EPABX
Desktop Support, Printer Installation
Good communication skills.
Salary Range: AED 4,000 to AED 5,000.00
Email CV#: [email protected]
Job Posted On: Feb 2023
IT Administrator
Employment type: Full Time
Experience: 3 to 5 year
Qualification: Bachelor's Degree holder
Salary: AED 5000 to 10000
Location: Dubai, United Arab Emirates
Company: Confidential
We are hiring experienced IT Administrator to be part our growing team and who will be leading the section in foolproof accountability and in detail clarity.
He shall work in close coordination with the group's offices and factory.
The IT Administrator is responsible for effective provisioning, installation or configuration, operation, and maintenance of systems hardware and software and related infrastructure.
Job Role:
Closely associate with Department heads and identify the requirements to be implemented in ERP software and coordinate with technical support team.
Advise Management from Time to Time with latest innovate IT measures to stream line the operational activities where ever possible.
Install, upgrade, support and troubleshoot Windows Client OS and macOS.
Install, upgrade, support and troubleshoot desktop applications, like Cadmate, Adobe Acrobat, Skype, Antivirus Software, etc.
Microsoft Office suite and Office365 configuration.
Assist in administering Windows Server and the main server roles of Active Directory, File Server, Print Server, DNS, DHCP, WSUS, etc.
Monitoring and recording the system utilization parameters (CPU, memory, disk space, etc.) and reporting/fixing any issue accordingly.
Assist in installing, upgrading, support and troubleshoot computers, printers, projectors, IP Cameras, switches, WAPs, UPS, etc.
Perform general preventative maintenance and remedial repairs to computers, laptops and printers.
Responsible for the daily monitoring of backups and scheduled tasks.
Familiarize end-users on basic software, hardware and peripheral device operation.
Keep the records of all the activities, upgrades, inventory and transactions related to IT department.
Responsible for IT equipment physical placement, inventory and documentation.
Implement security protocols and procedures to prevent potential threats.
Any other work-related task that may arise as assigned by the HoD.
Requirements:
Bachelor's degree in computer science, information technology, information systems.
Applicable professional qualification, such as Microsoft, Cisco certification.
Strong knowledge in problem-solving desktop hardware and software problems and user-related problems.
Job Type: Full-time, Permanent
Email CV#: [email protected]
Job Posted On: Feb 2023
Checkout:-