Looking for IT Administrator Jobs in Dubai, Abu Dhabi, Sharjah, Ajman, Ras al Khaimah etc.? Browse our latest listings and find the perfect role for you. With a variety of opportunities available, we can help you take the next step in your IT career. Apply now and start your journey towards success!
We are searching for an IT Administrator. This role is responsible for ensuring the IT department operates smoothly, meeting requirements, specifications, costs, and timelines. You will supervise the implementation and maintenance of our company's computing needs. The successful candidate will possess enhanced skills. They should also have proven professional experience and in-depth knowledge of industry best talent management practices.
Checkout: Administrative Jobs in Dubai and Around UAE
IT Administrator Jobs in Dubai, Abu Dhabi, Sharjah Around UAE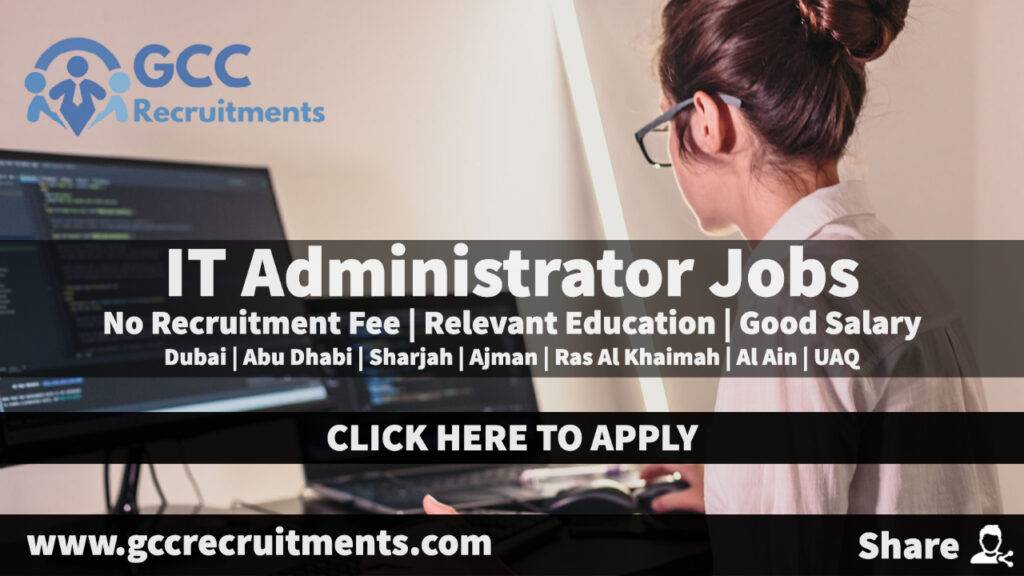 Job Responsibilities:
Manage information technology and computer systems
Plan, organize, control and evaluate IT and electronic data operations
Design, develop, implement and coordinate systems, policies, and procedures
Ensure security of data, network access, and backup systems
Act in alignment with user needs and system functionality to contribute to organizational policy
Identify problematic areas and implement strategic solutions in time
Audit systems and assess their outcomes
Preserve assets, information security and control structures
Vendor management
Access control, Issuing tickets.
Coordinating with different branches
Handle annual budget and ensure cost-effectiveness
Working in a cloud system.
Project Handling skills.
Working on ERP Systems like SAP is an added advantage.
IT ADMINISTRATOR Responsibilities Include:
Managing information technology, communication, and computer systems, with IT infrastructure and architecture and network handling knowledge
Controlling and evaluating it and electronic data operations
Managing people management Job brief
Checkout: Walk-in Interview in Dubai
List of Available IT Administrator Jobs
Sector: Reputed IT company
Job Type: Full Time
Work Location: Abu Dhabi
Send CV Email: [email protected]
Job published on: 2nd November 2023
Sector: Reputed IT company
Job Type: Full Time
Work Location: Abu Dhabi
Send CV Email: [email protected]
Job published on: 2nd November 2023
Checkout:-