Forklift Operator Jobs in Dubai & All Over UAE (Nov 2023): Forklift operator jobs are a job that is often overlooked in certain parts of the world, including industries in the UAE. It's a job that can be very challenging, and workers who do not have the right skills or forklift licenses are wasting their time. In the UAE, many industries and malls require professional forklift operators to manage their goods of pellets.
We will talk about these jobs ahead. For more jobs like this professions in various categories and jobs from different locations around the world visit our website.
Checkout: Open Interview in Dubai
Forklift Operator Job Details
| | |
| --- | --- |
| Job Position | Forklift Operator |
| Job Location | All Over UAE |
| Nationality | Any Nationality |
| Education | No Formal Education |
| Experience | Mandatory |
| Core Skills | Forklift Operating Skill |
| Language Skills | English (basic) |
| Salary | 900AED – 1500AED |
| Benefits | As per UAE labor law |
| Last Updated on | 1st November 2023 |
Forklift Operator Jobs in UAE New Openings 2023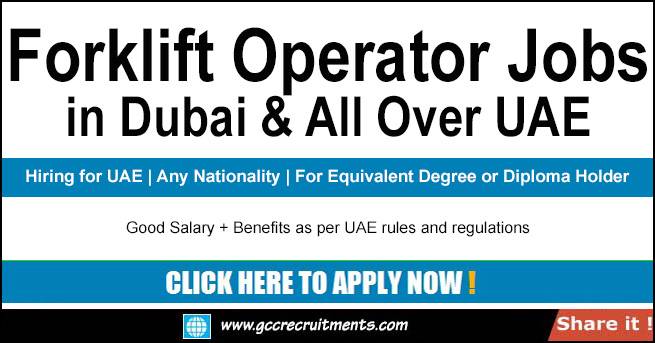 About Forklift Operator Jobs in UAE
Forklift operator jobs are not like something everyone can do. The job is hard Because it requires extreme precision and great responsibility of taking care of goods. Forklifts are used to move heavy and costly goods and shipments. You need to be a skilled worker and have experience working in a safe environment for the best job. The UAE government allows only skilled and licensed forklift operators to work, So for working as a forklift operator, you will need a license.
The benefits of obtaining the Forklift Operator Job in UAE
You can reap many great benefits by becoming a forklift operator. Here are some of the many benefits of being a forklift driver.
This job will open doors to better career opportunities in the future.
Working with your hands alone will make you more efficient.
Many companies will offer you amazing deals if you're a certified forklift operator.
This job can be done as a part-time job.
Checkout: Driver Jobs in Dubai, Abu Dhabi, Sharjah & Around UAE
The current situation for Forklift Operator Jobs UAE
The UAE has many companies, industries, and large malls looking for forklift operators. It is great that there are more forklift operator openings available for everyone. You can get a job if you're a certified forklift operator. Forklift operators are required to be physically active and fit. Don't miss this career-building opportunity if you're a skilled and certified forklift operator.
Forklift Operator Job Vacancies in UAE
Company: Confidential
Employment type: Full Time
Experience: 2 to 5 year
Qualification: Bachelor's Degree holder
Salary: AED 2300
Location: Dubai, United Arab Emirates
Description:
Post: Forklift Operator
Location: DIP 2 Dubai UAE
Forklift operator required with 4-6 years of experience. Salary is AED 2300 plus Accommodation and transportation provided by company.
Email CV#: [email protected]
Job Posted On: 17th September 2023
Checkout:-