If you are looking to get a Teaching Job in Dubai & Abu Dhabi, you have to know that many scams are being circulated. There are some agencies and websites that ask for only a small amount of money for visas, but then they vanish once you have made the payment. You can rest assured that you do not need to pay anyone to begin your teaching profession in Dubai.
You have a preferred school you'd like to join, visit the school's site and check if any open positions match your criteria. If you don't have a preferred school, regularly check our website for the latest teaching jobs in Dubai as they become available.
| | |
| --- | --- |
| Job Position | Teaching Jobs / Teaching Assistant Jobs |
| Job Location | Dubai, Abu Dhabi & Across UAE |
| Nationality | Any Nationality |
| Education | Equivalent Degree/Diploma |
| Experience | Specified Below |
| Core Skills | Teaching Skills |
| Salary Range | Depending Upon Position |
| Benefits | Excellent |
| Last Updated On | 4th November 2023 |
Teaching Jobs in Dubai | Teaching Assistant Jobs in UAE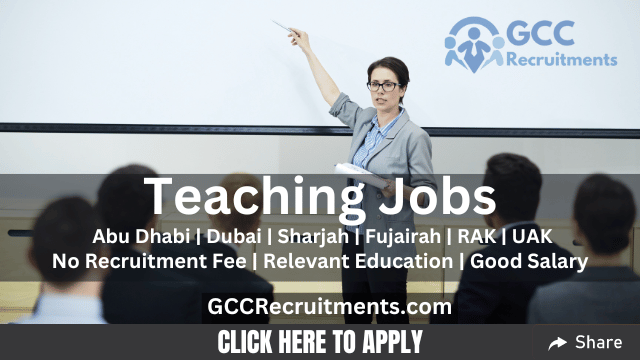 Teacher Job Description Template
We are looking for an experienced and self-motivated instructor to become part of our highly qualified group of educators. As a teacher, you will cultivate the students' enthusiasm for learning and growth. Your duties will include the grading of assignments, assessing the progress of students, as well as organizing educational activities.
You must be a knowledgeable professional knowledgeable of best practices in teaching and the legal process of education. Our ideal candidate must have great communication skills in both writing and speaking. They should also be good at connecting with others and giving presentations.
Qualifications and Requirements
To be a teaching assistant in Dubai, you will need to meet certain qualifications and requirements. These may vary depending on the type of teaching assistant job you are applying for, but here are some general requirements to keep in mind:
A bachelor's degree in education or a related field
Previous experience working with children or in a teaching environment
Excellent communication and organizational skills
Fluency in English (Arabic is a plus)
A valid work visa for Dubai
The benefits of the teaching Jobs in Dubai ?
TEducators in Dubai receive competitive salaries and additional perks, including yearly airfare and other industry-related benefits. The teaching jobs available in Dubai are available for elementary, kindergarten, and higher-education colleges. Teachers who teach English in Dubai Schools and you will get exposure to the multicultural world and work in top facilities. For more jobs like this professions in various categories and jobs from different locations around the world visit our website.
Salary for Teaching Jobs in Dubai
Teaching Jobs in Dubai Schools is a very lucrative job that pays salary between 6500 to 9000 AED per month and other benefits as per the UAE employment law. The higher the rank and the higher the pay will be.
Eligibility for Teaching Jobs in Dubai
Here are the eligibility criteria for teaching jobs in Dubai:
A bachelor's degree or more in education.
The ability to specialize in a particular subject of teaching is beneficial.
An English accent that is clear and easily distinguishable, along with exceptional communication skills.
A hardworking and patient nature.
Capability to collaborate in a group and interact with both students and children.
How to apply teaching job in Dubai ?
Start by looking through our "List of Available Job Vacancies" section below for a list of positions that are currently open before applying for Teaching Jobs in Dubai. It is advised to carefully go over the prerequisites and job descriptions. Create a polished CV or Resume that emphasizes your training and experience as a teacher.
In a cover letter, briefly highlight your relevant talents and indicate your interest in the position. Obtain any extra certifications or papers needed for the application. Please email us as soon as you have all the necessary documents. In the subject line, clearly state the position you are applying for. Use formal language in your email. Next, upload your files and forward them to the relevant authorities.
Jobs in Top Educational Institutions in UAE
List of Available Job Vacancies: (November)
Private School in Abu Dhabi (American Curriculum)
1. Male P.E. Teacher
2. Female Secondary English Teacher
3. Female Science (Physics, Chemistry, Biology) Teacher
4. Female Mathematics Teacher
5. Female Arabic Teacher
6. Female ICT Teacher
7. Female SENCO and SEN
Requriment: experience & educational certificate
Send CV Email: [email protected]
Job Publishing Date: 4th November 2023
Math, Hindi, Graphic Design. Assistant Teacher & Office Assistant
1) Math Teacher
2) Hindi Teacher
3) Graphic Design Teacher
4) Assistant Teacher
5) Office Assistant
Location: Required for a training institute in Abu Dhabi.
− Wanted Fresh / Experienced Graduate Teachers
− Please apply through WhatsApp to 056-389388
Send CV Email: [email protected]
Job published on: 4th November 2023
Career in Credence High School UAE (18 Nos.)
Primary (G2 to G5)
1) Maths Teacher
2) Arabic Teacher
3) SST Teacher
4) Science Teacher
5) School Counselor Teacher
Secondary (G9 to G12)
6) English Teacher
7) Maths Teacher
8) Biology Teacher
9) Accountancy Teacher
10) SST Teacher
11) Arabic Teacher
Middle (G6 to G8)
12) Science Teacher
13) Maths Teacher
14 )Arabic Teacher
15) Islamic Teacher
16) Computer Teacher
Early Years (KG1/KG2)
17) teaching Assistant
18) Home Room Teacher
Job Requirements:
− UAE experience in the same position
− Master / Bachelor's degree in the same field with teaching qualifications
− Applicants must be proficient in English Language.
Send CV Email: [email protected]
Job published on: 24th October 2023
Also Checkout:-