Dubai is a bustling city known for its towering skyscrapers, impressive architecture, and modern infrastructure. This has made it a hub for construction jobs, attracting job seekers from all over the world. In this article, we will delve into the different types of construction jobs available in Dubai, the salaries offered, and opportunities for freshers and foreigners.
Construction Company Jobs in Dubai
Dubai has a plethora of construction jobs available, ranging from engineering and management roles to manual labor jobs. Some of the popular construction jobs in Dubai include project managers, site engineers, quantity surveyors, architects, and electricians. Additionally, Dubai has a vast number of road construction projects, making it an excellent opportunity for those interested in road construction jobs.
Job Position
Construction Superintendent,
Project Engineer, Construction Estimator,
Construction Inspector,
Electrician, Plumber, Pipefitter, Carpenter etc.
Job Location
Across UAE
Nationality
Any Nationality
Education
Related Education
Experience
Mandatory
Salary
Specified below
Benefits
As per UAE labor law
Last Updated on
1st November 2023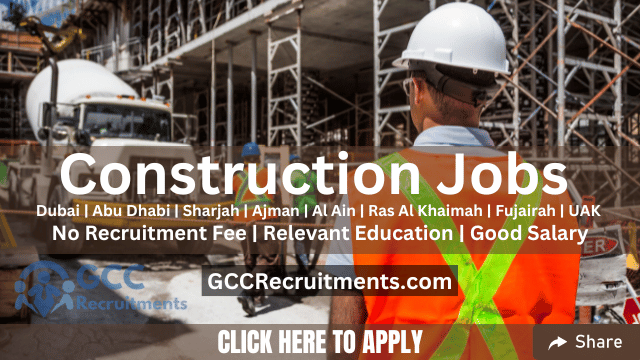 Construction Jobs in Dubai Salary
The salaries offered for construction jobs in Dubai vary depending on the role and the experience of the candidate. According to Payscale, the average salary for a project manager in Dubai is around AED 278,000 per annum, while a site engineer can earn between AED 50,000 to AED 200,000 per annum. Electricians can earn around AED 1,800 to AED 7,000 per month, while a quantity surveyor can earn up to AED 25,000 per month.
Construction Jobs in Dubai for Freshers
Dubai offers several construction jobs for freshers, particularly in manual labor jobs. Construction companies in Dubai are always on the lookout for individuals willing to work as construction laborers. Such jobs require no prior experience or education and offer on-the-job training. The salaries offered for such jobs range from AED 1,200 to AED 2,000 per month.
Construction Jobs in Dubai for Foreigners
Dubai welcomes foreigners to work in the construction industry and provides excellent job opportunities. To work in Dubai, foreigners require a valid work permit and a resident visa. Foreigners looking for construction jobs in Dubai can explore various job portals, Like our website or such portals like GulfTalent, Bayt, and Indeed, to find suitable job openings.
List of Available Job Vacancies: (September)