If you have a good interest in applying for Security Guard Jobs in Dubai and Across UAE. So we put the following questions and seriously want to ensure how many years of proven experience you possess for applying for these positions. Have you ever appeared for the DPS (Dubai Protective System) exam? If you are deeply trained and physically fit, you must begin by applying with your CVs. But if you are freshers, then, unfortunately, you will be disqualified for sure. Even you will not get recognized by small offices here in UAE. For more jobs like this professions in various categories and jobs from different locations around the world visit Security Jobs.
Dubai Security Guard Job Details
| | |
| --- | --- |
| Job Position | Security Guard/CCTV Operator/Watchman |
| Job Location | Dubai & Across UAE |
| Nationality | Any Nationality |
| Education | DPS Passed (Depending Upon Position) |
| Experience | Mandatory |
| Core Skills | Highly Skilled & Well-Trained |
| Salary | Specified below |
| Benefits | As per UAE labor law |
| Last Updated on | 3rd October 2022 |
Latest Security Guard Jobs in Dubai, Abu Dhabi, Sharjah & Ajman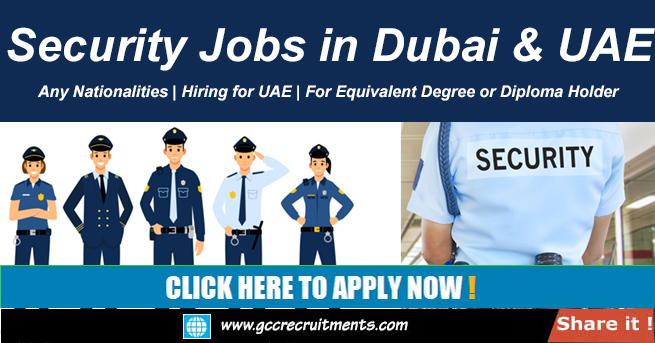 Security Guard Job Description
Whether hotels or restaurants, private businesses, banks or financial institutions, exchanges, and street vendors, every business needs a physically fit and well-trained security guard to defend their lives and property from happening stolen. The responsibility of the security guard turns around protecting personalities from any criminal threat. They regularly are alert for public security or crime-stopping and maintain the situation safe and sound by watching. Also, screen unapproved individuals at the entrance by running the security detecting equipment and allowing them to enter after making sure. In case of any security warning, they have full rights to use weapons to counter crime.
Eligibility Criteria For Security Guard Jobs
Who would highly consider an extremely trained security guard.
Having vast numbers of work experience in a related role.
We set some particular age limits, which must be 21 years old or above.
The minimum height will be around 5'6 or above as per the availability of employment.
How to Apply for Security Guard Jobs?
The ideal applicants willing to apply for the following jobs must have good experience in a similar area. They are requested to send their complete resume or contact to given details and the needed documents.
List Of Vacant Security Guard Job Positions
Company Name: Le Chocola
Job Location: Umm Al Quwain
Nationality: African national
Experience: With minimum 1 year of experience as a Security Guard
Candidate's Availability: Inside UAE
Salary: Depending upon experience
Benefits: Transportation + Accommodation + UAE Labor Benefits
Email CV: [email protected]
Whatsapp #056 5151744
Important Note: Candidates are willing to work on shift schedules.
Date Posted: 3rd October 2022
Work Location:  Fujairah
Qualification: Diploma/Degree (Relevant)
Experience: luxury hotel in UAE
Joining: Must be inside in UAE
Send CV Email: [email protected]
Job Publishing Date: 1st October 2022
3
Security Guard Required for an Arab Family
Company Name: Saeed & Mohammed Al Naboodah Group
Job Location: Dubai
Nationality: Nepalese national
Experience: With minimum 2 years of experience preferably ex-military or ex-policeman
Language Skills: Fluency in English
Salary: Good Salary
Benefits: Food + Accommodation + Medical Insurance + Uniform + 2 Months Leave with Salary for Every 2 Years
Email CV with photograph: [email protected]
Contact #04 2019604
Date Posted: 27th September 2022
4
Female Security Guards (3 nos.)
Company Name: Eco Pure Technical Services
Job Location: Dubai
Education: Attested degree
Experience: With 2 years of CCTV Operator experience
Security License: SIRA holder
Availability: Immediately
Salary Range: 2000 – 2500 AED /month
Whatsapp CV #055 9367201
Date Posted: 20th September 2022
5
Personal Assistant to CEO
Company Name: Kingston Stanley
Job Location: Dubai
Experience: With solid experience in a similar capacity
Language Skills: French Speaker is a must
Candidate's Availability: Inside UAE
Salary Range: 18,000 – 22,000 AED /month
Email CV: [email protected]
Date Posted: 14th September 2022
6
Lady Secretary (Filipino)
Job Location: Dubai
Email CV: [email protected]
Contact #050 7859769
Date Posted: 13th September 2022
Job Location: Dubai
Nationality: Filipino
Email CV: [email protected]
Date Posted: 10th September 2022
8
Officer Secretary/Cashier (Female)
School Name: The Elite English School
Industry: School
Job Location: Dubai
Education: B.Ed for teaching positions and the rest would be fulfilled with equivalent education
Experience: With teaching experience in the same role
Candidate's Availability: Inside UAE
Email CV: [email protected]
Date Posted: 10th September 2022
9
Executive Secretary (preferably Hotelier)
Hotel Name: Avenue Hotel Dubai
Job Location: Dubai
Education: Equivalent degree/diploma holders
Experience: Hospitality experience
Candidate's Availability: Inside UAE
Availability: Immediately
Email CV: [email protected]
Date Posted: 6th September 2022
10
ecurity Supervisor (1 no.)
Company Name: Active Plus Facilities Management
Job Location: Dubai
Experience: With UAE Security Supervisor experience
Security License: SIRA holder
Driving License: With valid UAE driving license
Age Limit: 35 years old or above
Availability: Immediately
Job Role: Oversees the daily workflow, schedules, and assignments of security staff including security guards and desk clerks. Prepares and conducts training for new hires and current staff including training on workplace searches, drug and alcohol procedures, and related safety and security topics.
Whatsapp CV #050 8082564
Contact #04 3466064
Date Posted: 1st September 2022
11
Security Manager (1 no.)
Company Name: Active Plus Facilities Management
Job Location: Dubai
Experience: With UAE Security Manager experience
Security License: SIRA holder
Driving License: With valid UAE driving license
Job Role: Developing and implementing security policies, protocols and procedures. Controlling budgets for security operations and monitoring expenses. Recruiting, training, and supervising security guards.
Whatsapp CV #050 8082564
Contact #04 3466064
Date Posted: 1st September 2022
12
Security Guards (10+ nos.)
Company Name: AKP Facility Management Service
Contract Length: 24 months
Job Location: Abu Dhabi
Experience: Freshers & Experienced
Security License: SIRA holders
Salary Range: 2250 – 2500 AED /month
Benefits: Transportation + Accommodation + Visa
Whatsapp CV #058 6696540
Date Posted: 27th August 2022
13
Security Guards (8 nos.)
Company Name: Al Reej Al Dar General Trading
Contract Length: 24 months
Job Location: Dubai
Nationality: Asian national
Experience: With 2-3 years of UAE experience as a Security Guard
Security License: SIRA holder
Knowledge: UAE rules and regulations as a Security Guard
Visa Type: Visit/Cancelled Visa holders
Availability: Immediately
Job Role: Security Guards' duties often include securing premises and personnel by patrolling property, monitoring surveillance equipment, and inspecting buildings and equipment. Security Guard's duties can also access points as well as permitting or prohibiting entry.
Salary Range: 2000 – 3000 AED /month
Contact #054 3537346/054 3586548
Date Posted: 22nd August 2022
14
Security Guards (10+ nos.)
Company Name: Marhaba Car Wash Services
Job Location: Dubai
Security License: SIRA Certificate as well as NOC
Visa Type: Own Visa
Availability: Immediate placement within 3 days in various locations across Dubai
Salary Range: 1500 – 1700 AED /month
Benefits: Uniform + Transportation + Accommodation
Whatspp CV #056 7391443
Date Posted: 20th August 2022
15
Security Guards (3 nos.)
Company Name: LFG Security Services
Job Location: Dubai
Nationality: Open
Experience: With experience as Lady Guard
Security License: SIRA holder
Knowledge: Computer Especially Excel
Language Skills: English (proficiency)
Gender: Female
Salary Range: 1800 – 2000 AED /month
Whatsapp CV #054 5458234
Date Posted: 20th August 2022
Company Name: Active Plus Facilities Management
Job Location: Dubai
Experience: With UAE experience as Security Guard
Security License: SIRA holder
Gender: Male
Salary: 1700 AED /month
Benefits: Transportation + Accommodation
Whatsapp CV #050 8082564
Date Posted: 20th August 2022
Company Name: Insta Safe Security Services
Job Location: Dubai
Experience: With 2-3 years of experience is a must
Security License: SIRA CCTV Training Certificate
Candidate's Availability: Inside Dubai
Email CV: [email protected]
Date Posted: 18th August 2022
Company Name: Active Plus Facilities Management
Job Location: Dubai
Experience: With Security Guard experience
Security License: SIRA holder
Language Skills: English & Hindi speakers
Gender: Male
Salary Range: 1500 – 1700 AED /month
Whatsapp CV: #050 8082564
Date Posted: 15th August 2022