If you have a good interest in applying for Security Guard Jobs in Dubai and Across UAE. So we put the following questions and seriously want to ensure how many years of proven experience you possess for applying for these positions. Have you ever appeared for the DPS (Dubai Protective System) exam? If you are deeply trained and physically fit, you must begin by applying with your CVs.
But if you are freshers, then, unfortunately, you will be disqualified for sure. Even you will not get recognized by small offices here in UAE. For more jobs like this professions in various categories and jobs from different locations around the world visit Security Jobs.
Checkout: Walk in interview in dubai
Dubai Security Guard Job Details
| | |
| --- | --- |
| Job Position | Security Guard/CCTV Operator/Watchman |
| Job Location | Dubai & Across UAE |
| Nationality | Any Nationality |
| Education | DPS Passed (Depending Upon Position) |
| Experience | Mandatory |
| Core Skills | Highly Skilled & Well-Trained |
| Salary | Specified below |
| Benefits | As per UAE labor law |
| Last Updated on | 30th January 2023 |
Latest Security Guard Jobs in Dubai, Abu Dhabi, Sharjah & Ajman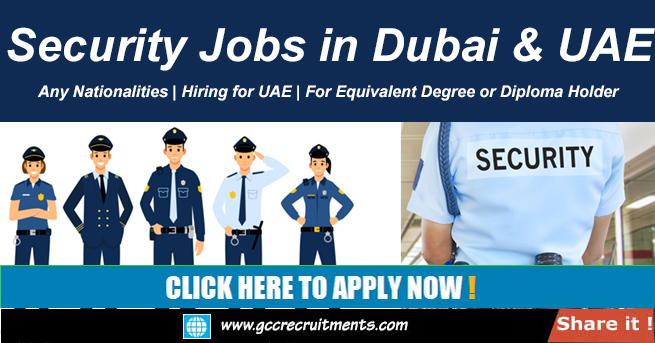 Security Guard Job Description
Whether hotels or restaurants, private businesses, banks or financial institutions, exchanges, and street vendors, every business needs a physically fit and well-trained security guard to defend their lives and property from happening stolen. The responsibility of the security guard turns around protecting personalities from any criminal threat. They regularly are alert for public security or crime-stopping and maintain the situation safe and sound by watching. Also, screen unapproved individuals at the entrance by running the security detecting equipment and allowing them to enter after making sure. In case of any security warning, they have full rights to use weapons to counter crime.
Checkout: Office Boy Jobs in Dubai
Eligibility Criteria For Security Guard Jobs
Who would highly consider an extremely trained security guard.
Having vast numbers of work experience in a related role.
We set some particular age limits, which must be 21 years old or above.
The minimum height will be around 5'6 or above as per the availability of employment.
How to Apply for Security Guard Jobs?
The ideal applicants willing to apply for the following jobs must have good experience in a similar area. They are requested to send their complete resume or contact to given details and the needed documents. You can also checkout security companies in dubai like Transguard, G4S Security, World Security, First Security etc..
List Of Vacant Security Guard Job Positions
1
Security Guards (10+ nos.)
Company Name: Magnum Security
Job Location: Dubai
Experience: With relevant experience in the same capacity
Height: Minimum 5'7
Age Limit: 25-40 years old
Gender: Male
Interview Date: Saturday, 4th February 2023
Interview Timing: 10:00 AM – 12:00 PM
Interview Location: Office #22-23, M Floor, Entrance C, The Curve Building, Al Quoz Industrial Area #3, Dubai.
Documents Required: CV, Recent Photograph, Passport Copy & VISA Copy.
Important Note: Please note we currently do not have a quota for African countries.
2
Security Officer (Arabic Speaker)
Hotel Name: Marina Byblos Hotel
Job Location: Dubai
Education: Degree/Diploma or (equivalent)
Experience: With previous hospitality experience is a must
Candidate's Availability: Inside UAE
Benefits: Food + Transportation + Free Accommodation + VISA
Subject: Please mention the position name in the subject of email
Email CV: [email protected]
Date Posted: 2nd January 2023
Hotel Name: InterContinental Fujairah Resort
Job Location: Fujairah
Education: Degree/Diploma or (Equivalent)
Experience: With minimum 1 year of experience in a similar role in 5 star hotel
Knowledge: Knowledge of Russian, Arabic & German would be an added advantage
Language Skills: Proficiency in English
Candidate's Availability: Inside UAE
Email CV: [email protected]
Date Posted: 2nd January 2023
4
Security Supervisor & CCTV Operator (3 Nos.)
1) Female CCTV Operator with SIRA Certificate
2) Security Guards with SIRA Certificate
3) Security Supervisor
Work Location: Dubai
Preferred: 2 years of relevant experience
Please contact: 050-9804197
Landline: 04-4307313
Job published on: 20th December 2022
Hotel: Holiday Inn Hotel
Work Location: Dubai
Nationality: Selective
Qualification: similar education (Equivalent)
Experience: similar work experience
Send CV Email: [email protected]
Job Publishing Date: 16th December 2022