G4S Careers 2023 : G4S is a well-known global security company that provides a variety of services to people and companies everywhere in the world. The UK-based company G4S also has a sizable presence in Dubai and provides a wide range of exciting job possibilities for people with various skill sets and educational backgrounds.
Checkout: Walk in interviews in dubai
| | |
| --- | --- |
| Employer Name | G4S Group |
| Job Location | Dubai & Abu Dhabi, UAE |
| Nationality | Any Nationality |
| Email Address | [email protected] |
| Education | Equivalent Degree/Diploma |
| Experience | Mandatory |
| Salary | Discuss During an Interview |
| Benefits | As Per UAE Labor Law |
| Last Updated On | 8th November 2023 |
G4S Security Careers in Dubai & Abu Dhabi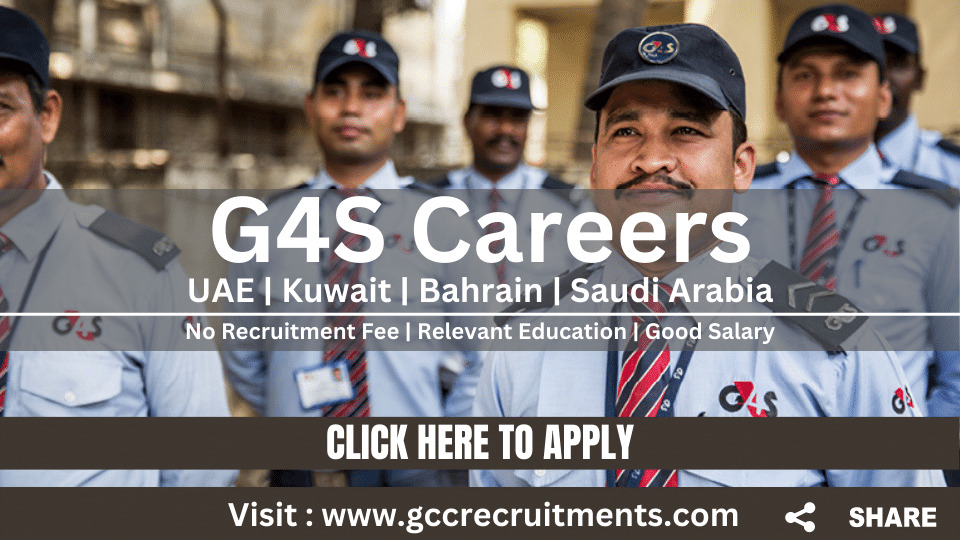 Checkout: Jobs in Transguard Security Group
About G4S:
G4S (formerly known as Group 4 Securicor) is a multinational security services company headquartered in London, United Kingdom. It is one of the largest security companies in the world, providing a wide range of security solutions to various sectors, including government, commercial, and private clients.
G4S offers services such as manned security, electronic security systems, secure transportation, consulting and risk management, and facilities management. They have a presence in over 90 countries and employ hundreds of thousands of people globally.
The company operates in diverse areas, including security personnel, monitoring and surveillance, access control, alarm systems, cash handling and transportation, event security, and more. G4S aims to provide tailored security solutions to meet the specific needs of its clients and maintain high standards of professionalism, reliability, and customer service.
Requirements:
To be eligible, you need to meet the following criteria for G4S Jobs in UAE:
Age requirement: You should be over 18 years old.
Nationality and work permit: Individuals of a different nationality must possess a valid permanent work permit.
Comprehensive personal background: A verifiable personal history that includes educational, employment, travel, and unemployment records.
Previous security experience: Prior experience as a Security Officer within the security industry or a strong ability to adhere to specific procedures and instructions.
Security credentials: Holding a valid security industry license or possessing an accepted certificate of security competence is preferable.
Effective communication: Proficiency in clear verbal and written communication.
Excellent customer service: Demonstrating good customer service skills.
Keen observation and attention to detail: Being attentive to detail and alert to any changes that may indicate heightened security risks or unusual situations.
Eligibility Criteria:
Experience: one should complete 2 years in law or security enforcement. Another option is to have 2 years of experience in the military. This means one should be active on duty for 2 years.
Tests and Evaluation: other than experience, an applicant should pass both, drug and psychiatric tests.
Checkout: Security Jobs in Dubai & All Over UAE
Employment Benefits in G4S Jobs
The benefits apply to regular, full-time employees in G4S UAE, UK and South Africa:
Health Insurance
Best Financial and Job Security
Good HR Support
Adoption Assistance
Maternity and Parental Leave
Off Time
Best Career
G4S Careers Email Address
Here is the email for contacting G4S, you can send email for any enquiry related to G4S.
How to Apply for G4S Careers?
You can submit an application via the G4S career website or LinkedIn page if you're interested in working for the company in UAE. Make sure to emphasise your relevant expertise and qualifications in your application and to customise it to the particular position you're applying for.
Open the employment portal of G4S.
You can filter the Job Category and job position to speed up the search.
Select the position you are looking for.
Read carefully about the functions, work hours, salary and requirements that are required to work.
Select the option to apply for this job.
Fill in a form with your name, surname, and more information.
Accept the terms, conditions and privacy policy.
Click on Submit Application.
Checkout: World Security Careers in Dubai
Available G4S Job Vacancies
| TITLE | LOCATION | APPLY LINK |
| --- | --- | --- |
| Service Sales Engineer – ELV | Dubai | Apply Now |
Tags: g4s careers | g4s careers dubai | g4s dubai careers
Checkout Jobs at,