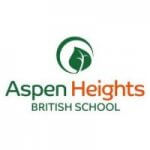 Aspen Heights British School (AHBS)
Job Summary
Aspen Heights British school are seeking an outstanding SEN Classroom Assistant commencing August 2019.
The successful candidate will
provide support and assistance to children with significant additional needs in a small classroom setting.
deliver support, tailored to the needs of the individual child, working in partnership with the Class Teacher and other professionals.
work with children with a variety of additional needs including ASD, physical disabilities, Specific Learning Difficulties and EBD.
when appropriate, work on a one-to-one basis with a student.
provide appropriate help throughout the day, including break and lunchtime monitoring and pre-and post-school activities as necessary.
maintain and promote a positive image of the school to children, parents and visitors.
attend training courses relevant to the post, ensuring continuing personal and professional development.
This role requires experience of working with children who have additional learning needs. Experience of working with children who have ASD would be an advantage.
The Post holder may undertake any other duties that are commensurate with the post.
Qualifications
All applicants must hold a valid Residents Visa (Under spouse or Father)
Attested post-secondary qualification.
Evidence of skills and expertise to support student learning.
Experience of working with children of primary school age in a school or specialist centre.
Experience of delivering learning support to individuals, groups and whole classes.
Desirable to hold a valid First Aid certificate.
Full-time, working in a small class setting.
How to Apply
Send Your Updated CV at ⇓ ⇓ ⇓