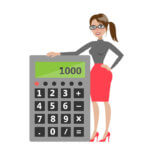 Website Foodstuff Company
Today here we are with new opportunity Accountant Cum Store Keeper wanted in Dubai , if you are a well qualified and experienced accountant you can apply for this job. To know more about "Accountant Cum Store Keeper wanted in Dubai" continue reading.
Job Position – Accountant Cum StoreKeeper
Job type – Full time
Job Location – Dubai, United Arab Emirates
Nationality – Any Nationality.
Accountant Job Duties:
Prepares asset, liability, and capital account entries by compiling and analyzing account information.
Documents financial transactions by entering account information.
Recommends financial actions by analyzing accounting options.
Summarizes current financial status by collecting information; preparing balance sheet, profit and loss statement, and other reports.
Substantiates financial transactions by auditing documents.
Maintains accounting controls by preparing and recommending policies and procedures.
Guides accounting clerical staff by coordinating activities and answering questions.
Reconciles financial discrepancies by collecting and analyzing account information.
Secures financial information by completing data base backups.
Maintains financial security by following internal controls.
Prepares payments by verifying documentation, and requesting disbursements.
Answers accounting procedure questions by researching and interpreting accounting policy and regulations.
Complies with federal, state, and local financial legal requirements by studying existing and new legislation, enforcing adherence to requirements, and advising management on needed actions.
Prepares special financial reports by collecting, analyzing, and summarizing account information and trends.
Maintains customer confidence and protects operations by keeping financial information confidential.
Maintains professional and technical knowledge by attending educational workshops; reviewing professional publications; establishing personal networks; participating in professional societies.
Accomplishes the result by performing the duty.
Contributes to team effort by accomplishing related results as needed.
Storekeeper Duties and Responsibilities:
Receive and forward all goods and deliveries in and out of the hotel to the correct point of contact/storage area.
Able to follow standards for issuing and receiving stock within the store's area of operation.
Monitor and take inventory on regular basis to compile orders based on par levels or needs.
Maintain clear and organised records to ensure all reports and invoices are filed and stored properly.
Monitor PAR levels for all food items to ensure proper levels.
Responsible for storage of both food & beverage and operational stock.
Responsible for the day-to-day check on the storage facilities for upkeep and hygiene.
Responsible to verify all goods arrived as per the agreed purchase, delivery note and agreed quantity has been received.
Refuse acceptance of damaged, unacceptable, or incorrect items.
Ensure cleanliness of all areas, keeping storage areas clean & tidy and in strict compliance with hygiene regulations.
Ensure all store requisitions are signed by concerned Department Heads (HOD's) and approved by FC/GM depending upon the hotel's operations procedure.
Ensure the quantity requested and the quantity issued always matches.
Ensure store requisition form is signed by the person collecting the goods and enter into the Inventory/Materials Management System.
Post all invoices using the MMS – Material Management System.
Conduct inventory audits to determine inventory levels and needs.
Conduct physical stock audits on a regular basis as advised by the Financial Controller (FC) and the physical count to be tallied with the inventory count from the MMS – Material Management System.
Any differences between the manual count and MMS software have to be investigated and the information to be given to the Finance Department.
Assist the Accounts Payable Clerk / payable assistant in finding out any cost discrepancies.
Complete requisition forms for inventory and supplies.
Extend all requisitions on a daily basis and update the inventory management software/system.
Work closely with Purchasing to order and receive items and equipment.
Job Description
Looking for an Accountant for a new Foodstuff Company in Dubai.
Candidate should have full knowledge of Accounts – including VAT Filing.
Salary – AED 2250+AED 500 (Housing Allowance)
Basic medical insurance will be provided.
Email your CV Bellow,