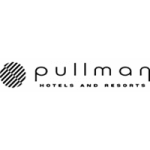 Pullman Jumeirah Lakes Towers Hotel & Residences
Pullman!
Our World is Your Playground.
Pullman hotels are where the new nomads find inspiration and make connections. Premium technology and services break down the boundaries between work and leisure and provide high-intensity experiences. Central locations in the major cities of the world, the best professional and sports amenities, timeless and functional design as well as balanced culinary concepts are some of the features to be found in Pullman hotels.
Pullman Dubai Jumeirah Lakes Towers Hotel & Residences
Pullman Dubai Jumeirah Lakes Towers Hotel & Residences offers upscale 5-star hotel accommodations in an urban contemporary design for the new generation of business travellers.
Overlooking a panoramic view of the impressive Sheikh Zayed Road and the Dubai Marina's breath-taking skyline, the hotel with its 354 rooms including 76 suites & apartments, combines modernity with comfort.
With its 5 restaurants and bars offering a variety of world cuisines and flavours to satisfy the most discerning palate, it is the ultimate destination for the trendsetting millennials.
The hotel's prime location with its close proximity to Dubai Metro and Dubai Tram stations provides visitors with easy access to all of the city's main attractions.
Responsibilities
The Front Office Receptionist reports directly to the Front Office Supervisor.
The Front Office Receptionist is dynamic and efficient, and serves all guests with a professional, warm and positive attitude. She/he will welcome guests as they arrive at the hotel and ensure to provide assistance at all times.
The Front Office Receptionist will welcome guests as they arrive at the hotel. Your duties include checking guests in and out, issuing keys, taking reservations by telephone or email, preparing bills and dealing with payments. You provide guests with information, answer their queries and deal with complaints.
The Front Office Receptionist shifts rotate 24 hours a day.
Qualifications, Characteristics & Experience
Vocational Diploma or Degree in Hotel Management school, or general Business School.
English is essential, with a second language a huge plus.
Clear speech with excellent verbal and written communication skills.
A polite manner.
A high standard of personal presentation.
A good telephone manner.
Exceptional customer service skills, patience and tact.
The ability to be calm and well organised, even when working under pressure.
MS Office and IT skills.
The ability to handle cash, credit/debit cards and foreign currency.
Some secretarial and keyboard skills.
Sales acumen and ability.
Accurate and able to pay attention to detail.
Ability to operate standard office equipment
Visa Requirements: Please note that you must be eligible to live and work in Dubai. We will assist successful applicants with the visa process and provide flights, accommodation and meals, including usual expat benefits.