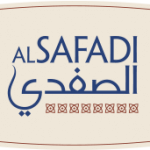 Al Safadi Restaurants
Al Safadi Restaurants
, a chain of restaurants that serves you excellent authentic Lebanese cuisine and makes you feel more like home. In our restaurants, we live up in our efforts for gastronomy and hospitality to meet your expectations for an outstanding dining experience. Our Chain enjoys diverse restaurant categories, pleasing each and every taste in the region of UAE.
We are looking for a positive, dynamic and creative Junior PASTRY SOUS CHEF / PASTRY CDP for Kreema Cake and Dessert Boutique!
• Candidate should have a minimum of two(2) years in the same capacity.
• Has the ability to communicate well in English and a proven track of food preparation, presentation and preservation knowledge. The candidate will have an eye for detail, pro-active, positively spirited and passionate about food, customer driven with a hands- on approach.
• Flexible, well organized and with great supervision skills in order to be able to work with different levels in a multicultural workforce.
Interested candidates are requested to send their food portfolio along with their CV bellow,
How to Apply
Send Your Updated CV at ⇓ ⇓ ⇓