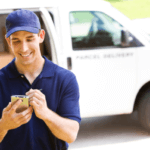 Truck Driver Jobs In Dubai 2019
Job Position – Truck Driver
Job type – Full time
Place – UAE,Sharjah.
Nationality – Any Nationality.
Posted Date – 22, January, 2019
Salary – Not specified
Qualification – Valid License with Experience.
Transport finished goods and raw materials over land to and from manufacturing plants or retail and distribution centers.
Inspect vehicles for mechanical items and safety issues and perform preventative maintenance.
Plan routes and meet delivery schedules.
Document and log work/rest periods and kilometers spent driving and retain fuel/toll receipts.
Input "macros" into our automated system for each stage of the loading and unloading process.
Comply with truck driving rules and regulations (size, weight, route designations, parking and break periods) as well as with company policies and procedures.
Maneuver trucks into loading or unloading positions.
Collect and verify delivery instructions.
Report defects, accidents or violations.


Requirements

Proven work experience as a truck driver.
Hands on experience with electronic equipment and software (GPS, AVL units, CB etc).
Ability to drive long hours and travel regularly.
Extensive knowledge of applicable truck driving rules and regulations.
No recent moving or driving violations.
Adaptability and foresight to handle unexpected situations (traffic, weather conditions etc).
Willing to submit to background/drug checks and provide employment recommendations
Trucking school diploma.
Valid truck driving licence.
– Must have 5 years' experience in Volvo Truck with Hiab (attached crane)
– Speaks English, Hindi & Arabic
– Literate in writing and reading
Please send your CV bellow,