Last updated on October 4th, 2021 at 08:12 am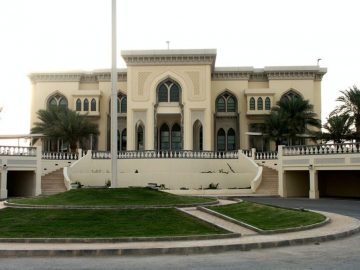 US Embassy Qatar
US Embassy Qatar Jobs — Jobs in US Embassy Qatar Careers www.qa.usembassy.gov Learn US Embassy Qatar Jobs at Qatar. Check coming shortly US Embassy Qatar Government Jobs at Qatar.
US Embassy Qatar is a superb organisation that it is possible to earn a fantastic livelihood. Job seekers that are gifted and wished to perform tasks at US Embassy Qatar, then it's an excellent opportunity for you due to US Embassy Qatar occupations launching news has released in US Embassy Qatar Careers webpage that's www.qa.usembassy.gov. There we found many chance for freshers and expertise candidates that are interested to perform work with US Embassy Qatar. So you can be part of the existing US Embassy Qatar Hiring in. You're able to read this US Embassy Qatar project opening post until the end for today each particulars.
US Embassy Qatar Job Vacancy 2021 Details
| | |
| --- | --- |
| Name of Recruitment | US Embassy Qatar Recruitment 2021 |
| Job Location | Job in Doha |
| Name of Job Opening | Immigration and HR Coordinator Jobs |
| Job Type | Jobs in Qatar |
| Salary Range | 91,249.00 QAR Average Monthly Compensation (Not Confirm) |

US Embassy Qatar Jobs Description 2021 
Announcement Number: Doha-2021-008

Hiring Agency: Embassy Doha

Position Title: Immigration and HR Coordinator (All Interested Applicants/All Sources)

Series/Grade: LE – 0305 6

Salary: QAR ﷼91,249

Work Schedule: Full-time – The work schedule for this position is: Full Time (40 hours per week)

Promotion Potential: LE-6
Duty Location(s): 

1 

in Doha, QA

Telework Eligible: No

For More Info: HR Section (974)4496-6000 [email protected]
<h3″>Overview
Hiring Path:  Open to the public

Who May Apply/Clarification From the Agency: For USEFM – FS is FP-08.  Actual FS salary determined by Washington D.C.

•    All Interested Applicants / All Sources

Security Clearance Required: Other

Appointment Type

Permanent

Appointment Type Details:

•    Indefinite subject to successful completion of probationary period.

Marketing Statement:

We encourage you to read and understand the Eight (8) Qualities of Overseas Employees before you apply.

Summary:

The work schedule for this position is:

Full Time (40 of hours per week)

Start date: Candidate must be able to begin working within a reasonable period of time of receipt of agency authorization and/or clearances/certifications or their candidacy may end.

Supervisory Position:

No

Relocation Expenses Reimbursed:

Yes

Relocation Expenses: Reimbursed: U.S. Embassy in Doha, Qatar provides relocation assistance to selected candidate.

Travel Required:

Not Required
</h3″>
Duties
The Immigration and Human Resources (HR) Coordinator will report directly to the HR Specialist and form part of an HR team that administers and expedites the HR Immigration Program. The incumbent will also be responsible for supporting other HR functions within the overall HR office. The incumbent will serve as the primary liaison between the Embassy and the Qatar Ministry of Labor, Ministry of Interior and Ministry of Foreign Affairs (MFA) on residency permits (RP) and visas for all Embassy Doha Locally Employed Staff (LE-Staff) and American Employees. The incumbent will also provide administrative support to the Human Resources Office in areas of recruitment, EPR's, benefits, allowance, and special HR programs, to include but not limited to, award programs and the Special Immigrant Visa program (SIV). The incumbent functions as a back up to the Immigration Expeditor position.
Qualifications and Evaluations
Requirements:

PRIOR WORK EXPERIENCE: 2 years of administrative work in an office setting is required.

Education Requirements:

Completion of High School is required.

Evaluations:

LANGUAGE:  Level III (good working knowledge) of Reading/Writing/Speaking English is required. Level IV (Fluent) of Reading/Writing/Speaking Arabic is required. (This may be tested.)

SKILLS AND ABILITIES: Must be able to obtain and maintain a Qatar Driver's license is required.

Qualifications:

All applicants under consideration will be required to pass medical and security certifications, and ability to obtain work authorization or residency permit (as applicable).
Benefits and Other Info
Benefits:

Agency Benefits:

Salary will be commensurate with qualifications; excellent working conditions; pay for performance increases, premier medical insurance coverage for employee and family, 20 holidays per year (American and Local), mid-year and end year bonuses; retirement plan, competitive housing and transportation allowance and education allowance.  The U.S. Embassy in Doha also offers great career and personal development training opportunities for selected candidate.

For EFMs, benefits should be discussed with the Human Resources Office.

The pay plan is assigned at the time of the conditional offer letter by the HR Office.

Other Information:

HIRING PREFERENCE SELECTION PROCESS:  Applicants in the following hiring preference categories are extended a hiring preference in the order listed below.  Therefore, it is essential that these applicants accurately describe their status on the application. Failure to do so may result in a determination that the applicant is not eligible for a hiring preference.

HIRING PREFERENCE ORDER:

AEFM / USEFM who is a preference-eligible U.S. Veteran*

AEFM / USEFM

FS on LWOP and CS with reemployment rights **

* IMPORTANT:  Applicants who claim status as a preference-eligible U.S. Veteran must submit a copy of their most recent DD-214 ("Certificate of Release or Discharge from Active Duty"), equivalent documentation, or certification.  A "certification" is any written document from the armed forces that certifies the service member is expected to be discharged or released from active duty service in the armed forces under honorable conditions within 120 days after the certification is submitted by the applicant. The certification letter should be on letterhead of the appropriate military branch of the service and contain (1) the military service dates including the expected discharge or release date; and (2) the character of service.  Acceptable documentation must be submitted in order for the preference to be given.

** This level of preference applies to all Foreign Service employees on LWOP and CS with re-employment rights back to their agency or bureau.

For more information (i.e., what is an EFM, USEFM, AEFM, MOH, etc.?) and for additional employment considerations, please visit the following link.

Additional Employment Considerations Include, But Are Not Limited to Conflicts of Interest, Nepotism, Budget, Residency Status, etc.

The following apply to Locally Employed (LE) Staff only

Current employees serving probationary period are not eligible to apply.

Current employees with an Overall Summary Rating of Needs Improvement or Unsatisfactory or an MBC score of less than 100 pints on their most recent Employee Performance Report (EPR) are not eligible to apply.

Further, the following apply to EFMs, USEFMs and AEFMs only:

Current employees who used a hiring preference to gain employment who are within their first 90 calendar days of employment are not eligible to apply. This does not apply when the hiring mechanism is TEMP or the work schedule is intermittent or irregular.

Candidates with hiring preference who have already accepted a conditional offer of employment may NOT be extended a second conditional offer of employment unless and until they withdraw their candidacy for the first position in writing.

Family members (EFMs/USEFMs/AEFMs) of all agencies are not allowed to apply for positions/vacancies if they have less than one year remaining at Post. This also applies to Members of Household (MOH).
How to Apply
How to Apply:

All candidates must be able to obtain and hold a local security certification/Non-Sensitive clearance.

To apply for this position click the "Apply To This Vacancy" button.  For more information on how to apply visit the Mission internet site: https://qa.usembassy.gov/embassy/jobs/.

Required Documents:

Please provide the required documentation listed below with your application:

Copy of Orders/Assignment Notification (or equivalent, if applicable)

Residency and/or Work Permit

College or University Degree Certificate (if applicable)

DD-214 – Member Copy 4, Letter from Veterans' Affairs, or other supporting documentation (if applicable)

SF-50/SF-15 (if applicable)

Next Steps:

Applicants who are invited to take a language or skills test, or who are selected for an interview will be contacted via email.

All local applicants with a current work permit must be able to present a No Objection Certificate (NOC) or current employment contract from their employer upon request.

Successful candidates from a foreign country will be assisted by the Embassy in obtaining a work permit.

For further information – the complete position description (PD) may be obtained by visiting the following link.

Thank you for your application and your interest in working at the U.S. Mission in Qatar.