Looking for Finance Executive jobs in Dubai, Abu Dhabi, Sharjah, or the UAE? Browse our latest job listings and find the perfect role for you. With a wide range of opportunities available, we can help you take the next step in your finance career. Apply today and start your journey towards success!
Finance Executive Job Summary
The role holder is responsible for executing the various activities pertaining to financial accounting under the guidance of the reporting manager. Also, the role executes routine tasks as assigned by the reporting manager in compliance with the policies and procedures.
Finance Executive Jobs in Dubai | Abu Dhabi | Sharjah | UAE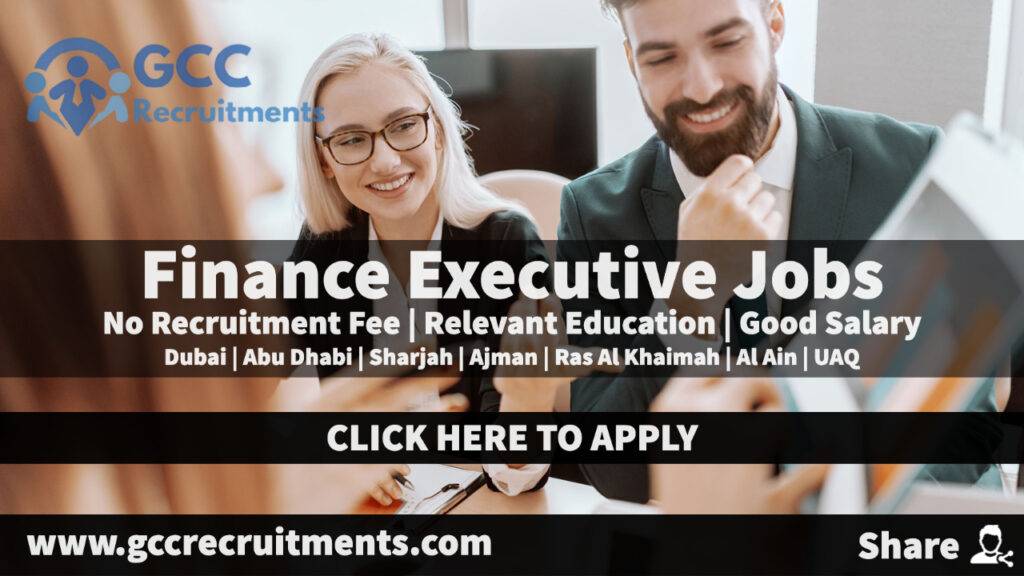 Finance Executive Job Responsibilities
Executes all monthly accounts payable and accounts receivable procedures for the assigned entity, including preparing journal vouchers and payable and receivable transactions (payments, receipts, debit notes, credit notes, and invoices).
Receives invoices and performs invoice matching and reconciling with delivery notes against invoices and purchase orders.
Executes all monthly general journal and general ledger procedures in accordance with established organizational policies and standards.
Prepares accounts payable cheques and wire-transfers with payment vouchers for necessary approval.
Reconciles accounts with major suppliers/vendors/contractors and arranges for balance confirmations.
Validates customers (commercial) history, credit ceiling or aging reports and updates the stakeholders on late receipts.
Maintains the account receivable ledger and process account receivable closing and reporting.
Receives payments and receipts, records them and performs matching and remittance.
Ensures that all accounting entries are supported with valid documentation.
Coordinates with auditors as needed on research/resolution of any accounting issues/discrepancies.
Liaises with external customers and suppliers with respect to periodic reconciliation of account statements.
Assists with research on the preparation of feasibility studies, financial due diligence, financial modeling & valuations, financial projections and other type of financial analysis to support financial decision making.
Defines performance goals at the start of the year in discussion with the reporting manager and ensures that the goals are monitored and achieved during the course of the year.
Takes ownership of his/her own learning agenda by identifying development needs in consultation with the reporting manager and working towards bridging the gaps through various means which go beyond just training.
Understands the competencies relevant to his/her role, and works towards displaying as well as developing these effectively.
Keeps abreast of relevant professional/industry developments, new techniques and current issues through continued education and professional networks.
Checkout: – Accountant Jobs in Dubai
Available Finance Jobs
Finance & Admin. Assistant
Work Sector: Required for a Company in JAFZA Dubai
Note: Candidates with JAFZA experience are preferred.
Send CV Email: [email protected]
Job published on: 23rd August 2023
FINANCE CONTROLLER
Experience: Minimum 3 years of proven experience in the transport industry, responsible for accounting-related activities, managerial reports, and budgeting.
Work exposure and skills:
− Manage and supervise accounts department records and operations
− Evaluating and managing risk
− Ensuring compliance with regulations
− Publishing financial statements and reports
− Overseeing budgeting and forecasting
− Coordinating auditing processes
− Maintaining internal controls over financial reporting
− Liaison with banks and hands-on experience with bank loans.
Send CV Email: [email protected]
Job published on: 23rd August 2023
JUNIOR AUDITOR
Work Sector: Urgently Required for an Office in ATI Dubai
Job Requirements:
− UAE experience is mandatory
− Valid UAE driving license
− Visa will be provided
Contact: 050-9319786
Send CV Email: [email protected]
Job Publishing Date: 1st August 2023