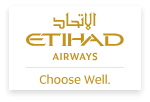 Etihad Airways
Job Summery
Etihad Aviation Group is a transforming business; as a young and ambitious airline, our focus is on innovation and on making Etihad truly an airline of choice for our guests around the world. As such, we are seeking talented and committed individuals, who are driven by a desire to deliver a world-class product and exceptional customer service.
As Manager Propulsion, you will manage & lead a team of Propulsion Engineers who are responsible for providing engineering support to the operation and maintenance of the Etihad engine fleet and ensuring compliance with all mandatory requirements from the OEM, Airworthiness Authorities and Etihad Aircraft Maintenance Program to meet the GCAA CAR M requirement.
SPECIFIC RESPONSIBILITIES
Ensure cost effective engineering technical support to the operation and maintenance of the Etihad engine fleet (Trent 700, Trent 500, V2500, CFM56, GE90 and GEnx and GP7200 as applicable)
Provide program management of outsourced maintenance and engineering activities. Liaise with Engine, APU and component OEMs and maintenance providers.
Manage the investigation of in service events, delays and technical problems and implement corrective action programs with the aim of improving engine/ APU and related component reliability.
Manage engine/APU and component modification standards, specifications and implementation. Assess engine/ APU and component Service Bulletins, Airworthiness Directives and associated EOs. Maintain compliance to all airworthiness requirements including Part M Continuing Airworthiness.
Review and approve engine work-scopes with maintenance providers. Manage engine shop visits, lease returns, engine removal plans and spare availability.
Provide troubleshooting assistance to Maintenance Control Centre (MCC) when required and review of Engine Health Monitoring Reports and alerts to determine required maintenance action
Assist other departments including Maintenance, Fleet Planning, Warranty, Contracts and Quality with Propulsion related issues. Produce business cases and reports for capital expenditure and modification programs.
Manage and participate in special projects as required by management and assist with continuous improvement of technical proceduresEDUCATION & EXPERIENCE
Tertiary qualifications that meet the eligibility requirements for membership as a charted engineer (e.g. Bachelor degree in the field of Aeronautical, Mechanical Engineering) Or ICAO Type II AME Licence holder with Approvals
Minimum 10 years in service technical support of aircraft engines (at least two of Etihad's types)SKILLS
Communication Skills – Excellent
Analytical Skills – Excellent
Leadership Skills – Proficient
Relationship & Management Skills – Excellent
About Etihad Airways
Etihad Airways, the national airline of the UAE, was formed in 2003 to bring "Abu Dhabi to the World". Over the years, we have grown into Etihad Aviation Group, a diversified global aviation and travel company, which is one of the world's most acclaimed industry brands.
Our airline flies to over 84 destinations with a fleet of over 100 Airbus and Boeing aircraft, serving 18.6 million passengers a year and carrying 682,000 tonnes of cargo in 2018.
How to Apply
Send Your Updated CV at ⇓ ⇓ ⇓