Are you in search of Al Bustan Hotel Jobs in Dubai? There are plenty of job openings and exciting career opportunities in the Al Bustan Centre and Residence in Dubai. Al Bustan Centre and Residence is a luxury 4-star hotel in Dubai.
Al Bustan Centre Jobs in Dubai
Bustan Centre and Residence are seeking females and males for the following jobs, i.e. Security Guards, Housekeeping, Reservation Agent Job Opportunities for Chefs in Dubai and Commis Chef jobs. Kitchen Staff Waiters/Waitresses and many more job opportunities for skilled and experienced employees.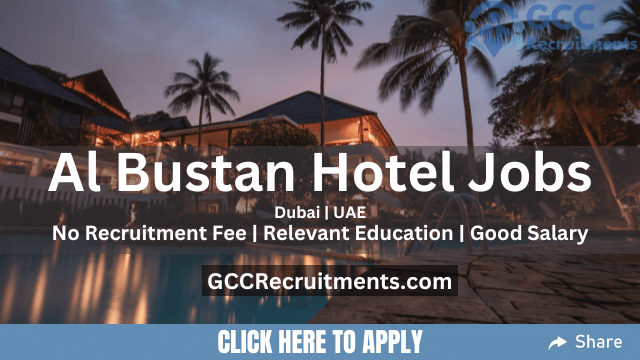 Job Details For Al Bustan Centre and Residence
| | |
| --- | --- |
| Company: | Al Bustan Hotels |
| Job Category: | Hotel Jobs in Dubai |
| Job Type: | Full Time |
| Gender: | Any |
| Nationality: | Any |
| Min. Education: | Secondary/ Diploma / Bachelor Degree |
| Min. Experience: | 1-2 Years UAE Experience |
| Job Location: | Dubai |
| Country: | United Arab Emirates |
| Salary: | AED 2000-5000 |
| Benefits: | As Per UAE Law |
Employment Requirements for Al Bustan Hotel Careers Dubai
Interested candidates must have a solid background and experience to apply in Al Bustan Hotel jobs in Dubai UAE. If you meet the below-mentioned job vacancies and positions, don't hesitate to forward your CV and all supporting documents and professional certificates/diplomas. We are always searching for the following employees to fulfill our requirements in our hotel.
Housekeeping
Reservation Agent
Security Guards
Kitchen Staff
Waiters/Waitresses
Commis Chef (Continental Cuisine)
The eligibility criteria to be considered for Al Bustan hotel jobs in Dubai:
The housekeeper should have the same degree or diploma from the restaurant and hospitality industry. Security Guards need to have been licensed by SIRA with prior experiences in the Security department, Shopping malls, Leisure complexes and Hotels, Residential Complexes and so on. The duties of security guards are contingent on the availability of shifts.
The Reservation Agent should have an education in hotel management that includes at least two years of experience similar to the previous in hotels with 4-5 stars in the United Arab Emirates. A good understanding and experience operating the Opera System, English communication and computer skills are strongly preferred.
Al Bustan hotel Job Vacancies
| JOB TITLE | LOCATION |
| --- | --- |
| Security Officer – Female | Dubai |
| Reservation Agent – Female | Dubai |
| Commis – Continental Cuisine | Dubai |
Eligibility Criteria:
Housekeeper preferable with a similar degree or diploma in the hospitality industry.
Security Guard must have prior working experience in security departments/shopping malls/hotels/residential complexes etc. Dubai Police/SIRA license would be highly preferred. And willing to work in rotating shifts.
Reservation Agent must hold a hotel management degree with at least 2 years of similar experience in a 4-5 star hotel. Having good knowledge over operating Opera Systems. Moreover, English & computer skills would be highly preferred.
Commis required to have at least 1-2 years of experience in a 4-5 star hotel as Commis Continental Cuisine.
How to apply for the Al Bustan Hotel Jobs in Dubai?
Suppose you're interested and are eager to begin your new job in the hospitality industry in Dubai. Al Bustan Hotel Careers could be the perfect starting point. It is essential to write an excellent CV or Resume and Send it to the following email address. You will be notified by email or phone if you can have the qualifications for our position. So, please send us your CV with all of your past work experience and achievements.
How To Apply: Send your updated CV and other details to [email protected]