Are you in search of Qatar Energy jobs?. We have listed the most recent QatarEnergy Careers and recruitment news on our careers website. Apply now for Qatar Energy Job Vacancy from the following list. QatarEnergy, The National Oil Company of the State of Qatar, has the following job openings for the Gas Operations Divisions.
QatarEnergy Jobs positions are based in Qatar and provide a safe and family-friendly lifestyle in which expatriate employees and their families are supported in the local community.
Checkout: Qatar Rail Careers
Qatar Energy Job Details
| | |
| --- | --- |
| Company Name | Qatar Energy |
| Job Location | Qatar |
| Nationality | Any Nationality |
| Education | Equivalent Degree/Diploma Holders |
| Experience | Mandatory |
| Age Limit | Specified Below |
| Salary Range | Discuss During an Interview |
| Benefits | As Per UAE Labor Law |
| Last Updated on | 14th September 2023 |
QatarEnergy Careers 2023 | Qatar Energy Jobs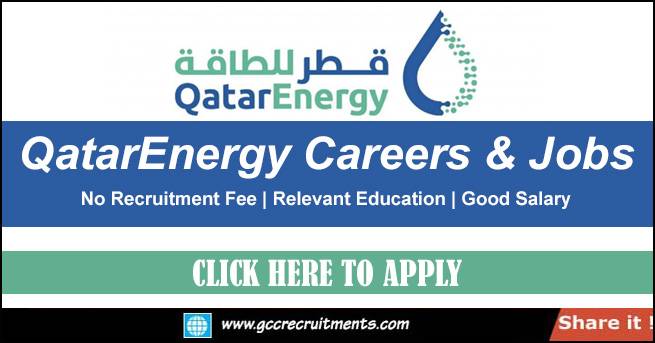 Qatar Energy Careers Qatar – Apply Now
QatarEnergy jobs are an excellent option for people looking for career opportunities in many fields. Qatar Energy is dedicated to recruiting and retaining the best standard of employees. Every position is a great local opportunity with a tax-free salary, along with an outstanding expatriate benefits package that includes family status, furniture, and accommodation allowances as well as annual bonus life insurance and medical coverage that is very generous, annual leave, paid flights as well as a host of other advantages—the
Job Search source: QatarEnergy Careers site.
Checkout: UCC Company Qatar Careers
Qatar Energy Job Benefits
QatarEnergy is a company that values diversity and recruits worldwide to ensure the highest standards. QatarEnergy offers competitive and comprehensive packages that include salary without local taxes and full family status. Allowance for accommodation, education assistance, dental and medical treatment, as well as a transport allowance. Generous annual leave, which includes paid travel expenses in the nation of the country that you are from.
How to Apply QatarEnergy Careers?
Apply in the form below for Qatar Energy job openings from the list below. Click on the Job title that is related to your job title. You will be redirected onto the main QatarEnergy Careers site.
| | | |
| --- | --- | --- |
| TITLE | LOCATION | APPLY LINK |
| Sr. Maintenance Engineer (Pipelines) | Qatar | Apply Now |
| Accountant, Local Sales | Qatar | Apply Now |
| Security Control Room Supervisor | Qatar | Apply Now |
| Sr. Principal Trader – Structured LNG | Qatar | Apply Now |
| Sr. Principal Trader – Physical LNG | Qatar | Apply Now |
| Sr. Sales Assistant | Qatar | Apply Now |
| Head Investment Management Reporting (Petchem) | Qatar | Apply Now |
| MULTIMEDIA OFFICER | Qatar | Apply Now |
| Environmental Lead (Climate Change and Energy) | Qatar | Apply Now |
| Head, Business Continuity | Qatar | Apply Now |
| Sr. Marketer (Condensates) | Qatar | Apply Now |
| Budget & Cost Controller | Qatar | Apply Now |
| Head, International Exploration & Growth (ME, Asia & EP) | Qatar | Apply Now |
| Sr Analyst, Carbon Accounting | Qatar | Apply Now |
| Budget Analyst | Qatar | Apply Now |
| Senior Business Continuity Officer | Qatar | Apply Now |
| Sr Project Finance Specialist | Qatar | Apply Now |
| Sr Analyst, Financial Controls | Qatar | Apply Now |
| Principal Economic Analyst – Optimization | Qatar | Apply Now |
| Principal Economic Analyst (Business Development) | Qatar | Apply Now |
| Principal Economic Analyst – Portfolio and Strategy | Qatar | Apply Now |
| Senior Emergency Response Officer | Qatar | Apply Now |
| Sr Credit Analyst | Qatar | Apply Now |
Checkout Jobs at,