Valero Energy Corp Refinery Careers and Job Application and Recruitment Details 2023. Download the following list of Valero Energy Careers, which we have added to our website. Valero Energy Corporation is an international marketer and manufacturer of transportation fuels, petrochemicals products, and power through its subsidiaries. To know more about this company and job location detail continue reading..
Valero subsidiaries employ around 10,000 people. Their assets include 15 petroleum refineries that can process approximately 3 million barrels of crude oil per day, 11 ethanol plants capable of producing 1.3 billion gallons annually, and a 50-megawatt wind farm.
Valero Careers in US, Canada, UK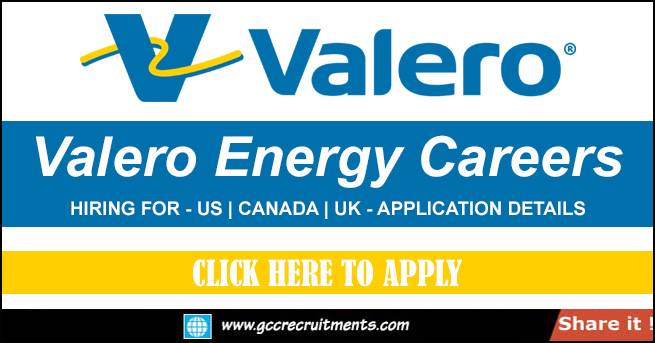 In the United States and Canada, more than 7,500 outlets sell the Valero and Diamond Shamrock, Shamrock, and Beacon brands. Ultramar is also available in Canada. Texaco is available in the United Kingdom, Ireland, and Canada. Valero Energy Partners LP is a midstream master limited partnership. Its general partner is Valero through subsidiaries. San Antonio-based company Valero is among the 20 Fortune 500.
Valero Careers Details 2023
• Company/Organization: Valero Energy Corporation
• Job Location: USA, Canada & UK
• Nationality: Any
• Qualification: Bachelor Degree/Diploma/High School
• Salary: Not Disclosed
• Experience: Minimum 1 to 2 Years
They are proud to recruit the best minds in the world to achieve extraordinary results for our company and industry. Valero, a world leader in alternative and refined fuels, is committed to the wellbeing of its employees, offering support and satisfaction at work, as well as in volunteering and health & wellbeing.
Valero Energy Corporation Job Vacancies
| Title | Location | Action |
| --- | --- | --- |
| Associate Planning Coordinator – 23001D1 | US-LA-Meraux | Apply Now |
| Accounting Coordinator – Latin America – 230019M | US-TX-San Antonio | Apply Now |
| Supervisor OS Infrastructure – 23001CX | US-TX-San Antonio | Apply Now |
| Staff Planning Engineer (AAD/MSO) – 23001CY | US-TX-Houston | Apply Now |
| Commodities Assistant – Ethanol Plant – 23001CV | US-MN-Welcome | Apply Now |
| Maintenance SMET – 23001CN | US-TX-Texas City | Apply Now |
| Planner – 23001C0 | US-LA-Norco | Apply Now |
| Loss Control Specialist – Corpus Christi – 23001CU | US-TX-Corpus Christi | Apply Now |
| Enterprise System Development Engineering Specialist (MK/MSO) | US-TX-San Antonio | Apply Now |
| Warehouse Coordinator – 23001CO | US-TX-Corpus Christi | Apply Now |
| Staff Refinery Optimization Planning Engineer (LAS/MSO) – 23001CS | US-TN-Memphis | Apply Now |
| Sr. Process Engineer – 23001CQ | US-TN-Memphis | Apply Now |
| Planner – 23001CI | US-LA-Meraux | Apply Now |
| Instrumentation & Electrician Technician – Ethanol Plant – 23001CK | US-IA-Charles City | Apply Now |
| Sr Manager NGL Trading (JH/MSO) – 23001CL | US-TX-San Antonio | Apply Now |
| Process Operator – Albert City Ethanol Plant – 23001CD | US-IA-Albert City | Apply Now |
| Associate Corporate Accountant – 23001C2 | US-TX-San Antonio | Apply Now |
| Heavy Truck Driver – 23001BZ | US-TX-Sunray | Apply Now |
| Manager Health, Safety Environmental – Ethanol Plant – 22001OO | US-IA-Fort Dodge | Apply Now |
| Scheduler – Commercial Supply & Trading – 23001CB | US-TX-San Antonio | Apply Now |
| Shipping & Receiving Operator – Ethanol Plant – 23001C6 | US-MN-Welcome | Apply Now |
| QA/QC Lab Technician – Ethanol Plant – 230017Y | US-OH-Bloomingburg | Apply Now |
| Vendor Master Analyst – 23001BI | US-TX-San Antonio | Apply Now |
| Mechanic II (Instrumentation Tech II) – 23001BQ | US-LA-Norco | Apply Now |
| Sr. Control Systems Engineer – 23001C3 | US-TN-Memphis | Apply Now |
| Metallurgist – 23001BN | US-TX-Port Arthur | Apply Now |
| Electrical Engineer – 23001BG | US-LA-Norco | Apply Now |
| Sr Process Safety Engineer – 23001BU | US-OK-Ardmore | Apply Now |
| Manager Refinery Process Safety – 23001BT | US-OK-Ardmore | Apply Now |
| Associate Fuels Regulatory Analyst – 23001BD | US-LA-Norco | Apply Now |
| Logistics & Scheduling Specialist – DP – 23001BE | US-LA-Norco | Apply Now |
| SAP Software Engineer – Supply Chain & Marketing – 23001BA | US-TX-San Antonio | Apply Now |
| SAP Software Engineer – Finance & Accounting – 23001BC | US-TX-San Antonio | Apply Now |
| Associate Leak Detection Engineer – 230017M | US-TX-San Antonio | Apply Now |
| Measurement Engineer – 23001B4 | US-TX-San Antonio | Apply Now |
| Sr. Refinery Inspector – 23001B5 | US-TN-Memphis | Apply Now |
| Associate Accounting Coordinator – 23001AV | US-TX-San Antonio | Apply Now |
| Associate Contracts Auditor – 23001AU | US-TX-San Antonio | Apply Now |
| Associate Originator – Ethanol Plant  – 230018I | US-IA-Fort Dodge | Apply Now |
| Associate Originator – Ethanol Plant  – 230018K | US-SD-Aurora | Apply Now |
| Associate OS Infrastructure Specialist – 23001AF | US-TX-San Antonio | Apply Now |
| Business Intelligence Developer Specialist – 23001AE | US-TX-San Antonio | Apply Now |
| Database Administration Specialist – Oracle – 22001KJ | US-TX-San Antonio | Apply Now |
| Business Intelligence Support Specialist – 22001GA | US-TX-San Antonio | Apply Now |
| SAP Technical Architect – Finance & Accounting – 230011P | US-TX-San Antonio | Apply Now |
| Staff Safety Engineer – 22001N1 | US-CA-Benicia | Apply Now |
| Refinery Analysis Accountant – 23001AC | US-TX-Port Arthur | Apply Now |
| HSE Engineer – Ethanol Plant – 23001A6 | US-IN-Mount Vernon | Apply Now |
| Electrical Engineer – 23001A0 | US-TX-Corpus Christi | Apply Now |
| Process Operator – Welcome Ethanol Plant – 23001A3 | US-MN-Welcome | Apply Now |
| Control Systems Engineer – 230019X | US-TX-Three Rivers | Apply Now |
| Director Laboratory & Product Quality – Analytical Chemistry – 230019V | US-TX-San Antonio | Apply Now |
| Process Operator – Lakota Ethanol Plant – 230019T | US-IA-Lakota | Apply Now |
| Shipping & Receiving Operator – Ethanol Plant – 230019U | US-IA-Lakota | Apply Now |
| Process Operator – Albion Ethanol Plant – 230019R | US-NE-Albion | Apply Now |
| External Reporting Analyst – 230019O | US-TX-San Antonio | Apply Now |
| Network Operator 3 – 230019D | US-TX-San Antonio | Apply Now |
| Network Operator 2 – 230019C | US-TX-San Antonio | Apply Now |
| Health & Safety Specialist – 2300191 | US-TX-Port Arthur | Apply Now |
| Safety Engineer – 2300192 | US-TX-Port Arthur | Apply Now |
| Sr Environmental Engineer – 230018V | US-TX-Port Arthur | Apply Now |
| Environmental Specialist – 230018W | US-TX-Port Arthur | Apply Now |
| Shipping & Receiving Operator – Ethanol Plant – 230015T | US-SD-Aurora | Apply Now |
| Simulation Developer – Logistics Optimization – 2300189 | US-TX-San Antonio | Apply Now |
| Environmental Engineer – 230018C | US-TX-Port Arthur | Apply Now |
| Mechanic Helper – 2300183 | US-TX-Sunray | Apply Now |
| Mechanic 2nd Class – 2300181 | US-TX-Sunray | Apply Now |
| QA/QC Lab Technician Part-Time – Ethanol Plant – 230017G | US-OH-Bloomingburg | Apply Now |
| Control Systems (Instrument) Engineer – 2300145 | US-TX-Corpus Christi | Apply Now |
| Manager Health, Safety Environmental – Ethanol Plant – 230017E | US-IA-Lakota | Apply Now |
| Lead HR Specialist – 230016Q | US-CA-Wilmington | Apply Now |
| Business Systems Specialist – 2300176 | US-TX-San Antonio | Apply Now |
| Manager Investor Relations and Finance – 230016R | US-TX-San Antonio | Apply Now |
| HR Advisor – 230016L | US-CA-Benicia | Apply Now |
| Accounting Associate – 230016J | US-TX-San Antonio | Apply Now |
| Sr. Advanced Process Control Engineer – 22001MZ | US-TN-Memphis | Apply Now |
| Process Operator – Hartley Ethanol Plant – 230015V | US-IA-Hartley | Apply Now |
| QA/QC Lab Technician – Ethanol Plant – 230015J | US-IA-Lakota | Apply Now |
| Process Control Systems Specialist – 230014U | US-TN-Memphis | Apply Now |
| Grains Procurement Representative – Ethanol Plant – 2300158 | US-MN-Welcome | Apply Now |
| Data Security Specialist – SAP HANA Security – 2300152 | US-TX-San Antonio | Apply Now |
| Electrician – Experienced – 230014D | US-TN-Memphis | Apply Now |
| Staff Electrical Engineer – 22001KS | US-CA-Benicia | Apply Now |
| Instrumentation & Electrician Technician – Ethanol Plant – 230014L | US-IA-Hartley | Apply Now |
| Superintendent Turnaround – 22001RF | US-OK-Ardmore | Apply Now |
| Control Systems Engineer – 2300143 | US-TX-Corpus Christi | Apply Now |
| Associate Electrical Engineer – 2300123 | US-OK-Ardmore | Apply Now |
| Associate Electrical Engineer – 2300129 | US-TN-Memphis | Apply Now |
| Data Analytics & Automation Advisor – 230011S | US-TX-San Antonio | Apply Now |
| Control Systems Engineer – 22001FJ | US-CA-Benicia | Apply Now |
| Contracts Auditor – 230010C | US-TX-San Antonio | Apply Now |
| Sr. Metallurgist – 220010Y | US-CA-Benicia | Apply Now |
| Electrical Engineer – 22001M5 | US-OK-Ardmore | Apply Now |
Checkout Jobs at,