We understand the importance of staying updated with the latest career opportunities at Emirates Driving Institute. Therefore, we are delighted to provide you with the most recent job openings available at EDI in Dubai, UAE. You can find the up-to-date list of available positions below and apply for the desired job directly through our website. To gain further insights into the company and obtain detailed information about the job locations, please continue reading. We aim to keep you well-informed about the latest opportunities at Emirates Driving Institute so that you can make informed decisions and pursue a rewarding career with them.
Checkout: Driver Jobs in Dubai, Abu Dhabi, Sharjah
Emirates Driving Institute Job Details
| | |
| --- | --- |
| Employer Name | Emirates Driving Institute |
| Job Location | Dubai, UAE |
| Nationality | Any Nationality |
| Education | Equivalent degree/diploma holders |
| Experience | Mandatory |
| Salary | Discuss during an interview |
| Benefits | As per UAE labor law |
| Last Updated on | 13th September 2023 |
Emirates Driving Institute EDI Jobs in Dubai UAE 2023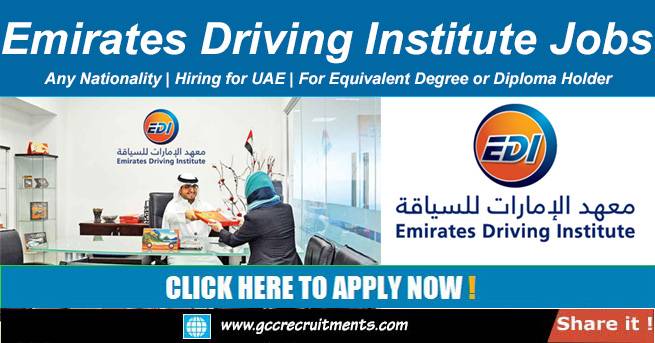 About Emirates Driving Institute
Emirates Driving Institute is a renowned driving institute that has been operating since 1991 and is considered the largest and most successful driving institute in Dubai and the Middle East. It is proudly affiliated with the esteemed Belhasa Group. At Emirates Driving Institute (EDI), they provide comprehensive driver license training courses utilizing a vast fleet of over 500 vehicles across different vehicle categories. These categories include light motor vehicles (cars), heavy buses, light buses, heavy trucks, forklifts, shovels, and even motorcycles. With their extensive range of training options, EDI offers individuals the opportunity to acquire the necessary skills and knowledge to obtain their driver's license in a wide variety of vehicle types.
Emirates Driving Institute Careers
Are you looking for Emirates Driving Institute Job Vacancies?. Emirates Driving Institute listed their most recent job openings for filling their vacant posts.
EDI Jobs in Dubai, More than 500,000 students have obtained their driving licenses through EDI since it was founded. Emirates Driving Institute has trained its Driving Instructors and its Technical Training Staff according to the curriculum administered by Automobile Association Developments Limited of the United Kingdom.
Checkout: Bus Driver Jobs in Dubai & All Over UAE
How to Apply for Emirates Driving Institute careers?
If you are interested in job opportunities at Emirates Driving Institute, you have two options to apply. Firstly, you can use the form provided below to submit your application for specific job openings listed above. Simply click on the job title that corresponds to your desired position, and you will be redirected to the Emirates Driving Institute Careers website. Alternatively, you can directly send your resume to the following email address:
Email: [email protected]
Ensure that your resume is attached to the email when sending it. This will enable the recruitment team at Emirates Driving Institute to review your qualifications and potentially consider you for employment.
Emirates Driving Institute Jobs Vacancies
JOB TITLE
Job Description
Apply Link
Customer Service Representative
» Bachelor's Degree
» Good English communication (Verbal+Written). Multilingual language will be an advantage
» Proficient computer knowledge (Ms Office)
Apply
Light Vehicle Instructor
» Manual License at least 3 years
» Higher Secondary School Certificate
» 25 to 40 years old
» Hindi / Urdu Speaker with Good English Communication (Written and Verbal)
Apply
Motorcycle Riding Instructor
» Valid UAE Motorcycle riding license of minimum 3 years and UAE LMV driving license
» Should be within the age group of 25- 40 years.
» Hindi / Urdu Speaker with Good English Communication (Written and Verbal)
Apply
Checkout Jobs at,