GlaxoSmithKline has announced a variety of jobs and new openings for those interested in working with the pharmaceutical sector. Check out the list of jobs available on GSK Jobs 2023 & Application Details and apply for the best opportunity. To know more about this company and job location detail continue reading..
Checkout: PAE Careers Worldwide
GSK Job Details 2023
| | |
| --- | --- |
| Employer Name | GSK (Glaxo Smit Kline) |
| Job Location | Dubai, UAE , Kuwait & Turkey |
| Nationality | Any Nationality |
| Education | Equivalent Degree/Diploma |
| Experience | Mandatory |
| Salary Range | Depending Upon Positions |
| Benefits | Standard Benefits |
| Last Updated On | 26th September 2023 |
GSK Careers in Dubai 2023 Job Application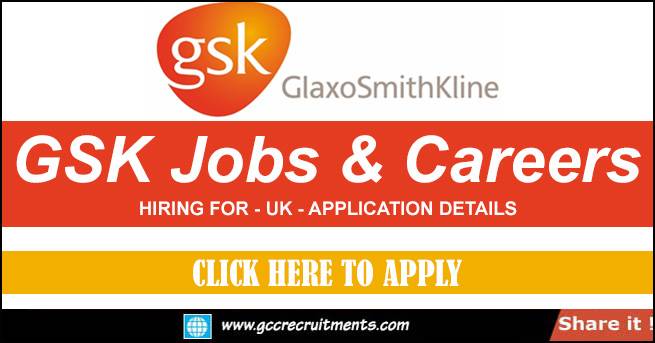 About GSK
GSK GlaxoSmithKline is a British Multinational firm with its headquarters located in London. It is also the 10th largest pharmaceutical company in the world. GlaxoSmithKline is a household name for its vaccines, pharmaceuticals, and nutritional products for healthcare and nutrition. Today, more than 99,000 employees worldwide help people feel better, do more, better, and live longer.
GlaxoSmithKline Jobs:
The opportunities at GSK are among the highest need jobs in the pharmaceutical industry worldwide. If you are looking to experience an increase in your career and would like to join GlaxoSmithKline Careers, we have the best jobs for you. Apply for positions as a pharmaceutical sales representative and pharmaceutical outside sales representative positions, research scientist jobs, and positions for the clinical data manager, pharmacist manager, biostatistician, and other related opportunities in the pharmaceutical industry.
Checkout: Baker Hughes Careers in Dubai
Rewards at GlaxoSmithKline Jobs:
The rewards program at GSK is among the most competitive in the market. You can work at one of the most prestigious global companies and with great benefits makes this a fantastic chance for you. The benefits include:
A competitive salary.
An annual bonus determined by your performance.
Healthcare and wellbeing programs, pension plan participation programs, savings time off, childcare, and help.
Employee recognition programs for exceptional accomplishments.
Personal and professional development through various training programs.
GSK Job Vacancies
TITLE
LOCATION
APPLY LINK
Intern (UAE National)
Dubai
Apply Now
Electrical and Calibration Lead
Saudi Arabia
Apply Now
Legal Head Saudi Arabia
Saudi Arabia
Apply Now
Medical Representative – AlMadinah
Saudi Arabia
Apply Now
Salesforce Effectiveness Specialist
Saudi Arabia
Apply Now
Omnichannel Analytics & Insights Lead
Saudi Arabia
Apply Now
Experience Design & Omnichannel (OC)
Orchestrator Lead
Saudi Arabia
Apply Now
Legal Head Saudi Arabia
Saudi Arabia
Apply Now
What is the process to apply for jobs at GSK?
I can provide you with general information on how to apply for jobs at GSK (GlaxoSmithKline). However, please note that the specific application process for GSK in Dubai may have changed since my last knowledge update in September 2023. It's always recommended to visit the official GSK website or contact their HR department directly for the most up-to-date and accurate information regarding job applications. Here are the general steps you can follow:
Visit the GSK Careers website: Start by visiting the GSK Careers page, which can usually be found on the GSK official website. Look for the "Careers" or "Join Us" section.
Explore available job opportunities: Browse through the job listings or search for positions specifically in Dubai or the United Arab Emirates (UAE). GSK typically categorizes its job openings by function, location, and other relevant criteria. Review the job descriptions, requirements, and qualifications to find roles that match your skills and interests.
Create an account: To apply for jobs, you'll often need to create an online account on the GSK Careers website. This account will allow you to submit your application, track its status, and receive updates on your job search.
Submit your application: Once you've found a suitable position, complete the online application form. You'll typically need to provide your personal details, education background, work experience, and upload your resume or CV. Tailor your application to highlight relevant skills and experiences that align with the requirements of the job.
Attach additional documents: Some positions may require additional documents such as cover letters, transcripts, certifications, or any other supporting materials. Be sure to review the job posting carefully to determine if any additional documents are required and attach them accordingly.
Review and submit your application: Before submitting your application, carefully review all the information you've provided to ensure accuracy and completeness. Double-check for any spelling or grammar errors. Once you're satisfied, submit your application through the online system.
Application review and selection process: After submitting your application, it will go through a review process by GSK's HR team and relevant hiring managers. If your qualifications match the requirements and you're shortlisted, you may be invited for an interview. The interview process may involve phone or video interviews initially, followed by in-person interviews if you progress further.
Interview and assessment: Prepare for the interview by researching GSK as a company, understanding the role you applied for, and practicing common interview questions. Be ready to demonstrate your skills, experiences, and alignment with GSK's values and goals. Depending on the position, you may also be asked to complete assessments or tests to evaluate your capabilities.
Job offer and onboarding: If you successfully pass the interview and assessment stages, and the GSK team decides to extend an offer, you will receive a formal job offer. Review the offer details, including compensation, benefits, and start date. Once you accept the offer, you'll typically proceed with the onboarding process, which may involve completing paperwork, background checks, and other necessary procedures.
Remember that the specific application process and requirements can vary, so it's essential to visit the GSK Careers website for the most accurate and up-to-date information on applying for jobs in Dubai or any other location of your interest.
Checkout: P&G Careers in Dubai
Apply For,