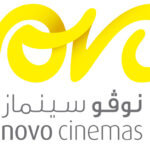 Novo Cinemas
Job description / Role
• To effectively respond to the needs of Guests, by delivering exceptional service in collaboration with a team of engaged individuals within our theater operation.
• Cinema Workers are the front line individuals responsible for ensuring that our guest have a Great Time Out.
• Cinema Workers will work at either of the following 3 tasks and will be rotated per Cinema Management scheduling: Box Office (Ticketing); Concessionaire and Usher (Floor).
Requirements
• Hotel, Restaurant and Good Customer Service Experience
• Good English communication Skills
• Commitment to excellence in Guest service with proven ability to maintain significant attention to detail. Proven track record in a support role within a fast paced, service based, environment
About the Company
Novo Cinemas is home to the most innovative entertainment experiences in the GCC, offering each visitor A Great Time Out since 2014. We are one of the largest cinema chains in the Middle East because we push boundaries, pioneer change, and consistently strive for the "new". We began our legacy by introducing the region to such evolutionary technologies as the largest IMAX with Laser in the MENA region, online booking, e-kiosks and the first cinema-dedicated mobile app.
Novo Cinemas takes pride in showcasing the latest viewing technology, being acknowledged as the regional leader in cinema innovation when bestowed with the Most Innovative Cinema award at ComiCon ME 2017. This award is a testament to our dedication to providing customers with the most state-of-the-art movie-going experiences possible.
Our theaters are cinematic experience hubs creating lasting memories for every customer. Novo brings movies to life, letting guests choose from 2D, 3D, 4D, IMAX with Laser, ATMOS and luxury 7-Star VIP suites for their comfort. Supporting the in-theatre entertainment are bespoke gourmet menus, the latest trends in cinema snacks including frozen popcorn, fresh crepes and healthy treats. We are committed to providing every community with a personalized and outstanding entertainment experience placing cinema-goers at the forefront. Known as a destination for regional premieres, we are proud to host the most anticipated preview screenings. In addition to blockbuster releases, Novo offers corporate and private group bookings as well as alternative content such as live boxing, cricket and football matches and the performing arts. Films can be as informative as they are entertaining and Novo's commitment to education is reflected in our wide range of stunning IMAX documentary films available for private school bookings.
There are currently 158 screens across the GCC, ongoing expansion will see our numbers grow to over to 220 screens in more than 20 cinemas in four markets by 2019. Novo Cinemas. A Great Time Out! www.novocinemas.com