Are you a hardworking individual with a passion for hospitality? Do you enjoy creating a warm and inviting environment for guests? If so, we invite you to apply for the position of Room Attendant in Dubai, Abu Dhabi, Sharjah, Ajman, Ras al Khaimah, and all over UAE.
As a Room Attendant, you will be an integral part of our team, responsible for ensuring that our guests have a comfortable and enjoyable stay. You will be responsible for cleaning and maintaining guest rooms, responding to guest requests, and ensuring that our high standards of cleanliness and hospitality are met.
Most Hotels value their employees and strive to create a supportive and positive work environment. They offer competitive salaries and benefits, opportunities for career growth and advancement, and a dynamic and diverse team.
If you are looking for a rewarding and challenging career in the hospitality industry, we encourage you to apply for the position of Room Attendant in UAE. We look forward to receiving your application and learning more about how you can contribute to our team.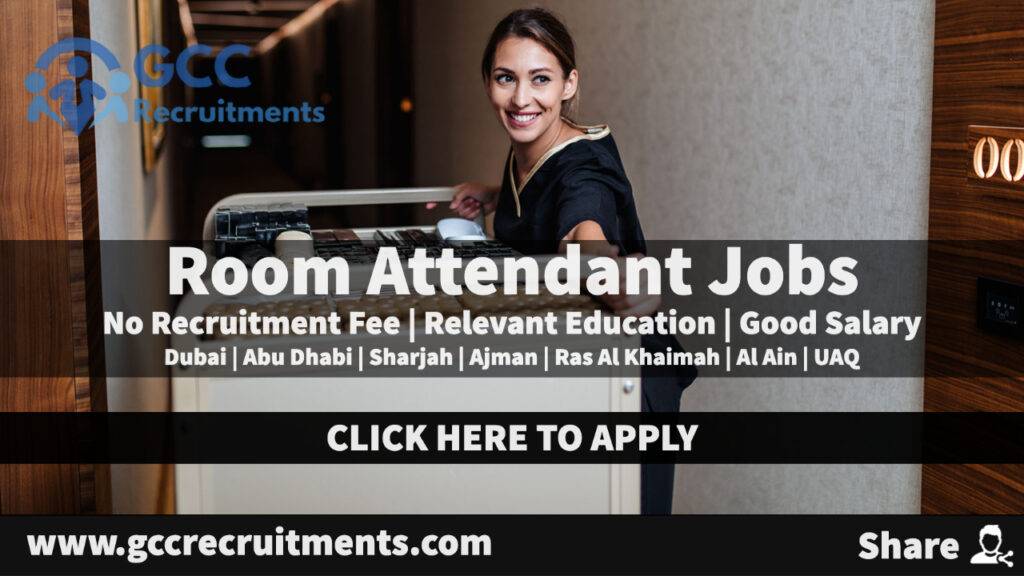 Responsibilities of Room Attendant Jobs
Responsibilities and essential job functions include but are not limited to the following:
Cleans and maintains areas of responsibility according to set standards and procedures
Replenish guest supplies
Ensure guests requests are promptly and courteously met
Report damage or malfunction in hotel rooms/areas to Supervisor
Maintain equipment in a proper state of cleanliness and repair
Maintain a section room report as well as a daily productivity report
Attend daily briefings with supervisor and takes on daily assigned tasks
Reports lost and found articles to the housekeeping office immediately
Handle guest complaints, reporting them to Supervisor immediately
Report unusual behavior/activities in guestroom, floors/ public areas to Supervisor
Record room status in allocated section accurately
Comply with hotel's health, safety and hygiene policy
Adhere to personnel grooming and hygiene standards
Attend meetings and training sessions as required
Carry out valet services when required (e.g. delivery of linen, processing laundry orders)
Fully understands the difference in guest levels (VIPs) and Room Categories
Must adhere to all Lost and Found procedures
Proper follow up of HK SOPs
Must comply with all fire evacuation procedures and first aid trainings
Must comply with Raffles grooming standards
To attend proper trainings and have best conduct at work
Qualifications For Room Attendant Jobs
PERSONAL ATTRIBUTES
Good organizational skills
Good level of engagement with guests
Good knowledge of Housekeeping Operations
QUALIFICATIONS
Secondary education
Good Housekeeping knowledge
Available Room Attendant Jobs