Let's explore the latest Grandiose Supermarket Careers. Here we share the latest Grandiose Supermarket Jobs in Dubai, Dubai, Abu Dhabi, Sharjah, RAK, UAE. Then, apply for Grandiose Supermarket jobs from the following list that we have updated on our website.
Grandiose Supermarket Job Details
| | |
| --- | --- |
| Company Name | Grandiose Supermarket |
| Job Location | Dubai, Abu Dhabi, RAK, Sharjah All Over UAE |
| Nationality | Any Nationality |
| Education | Bachelor Degree/Diploma/High School |
| Experience | Minimum 2 to 3 Years |
| Salary | Discuss during an interview |
| Benefits | As per UAE labor law |
| Last Updated on | 13th May 2022 |
Grandiose Supermarket Careers in Dubai UAE 2022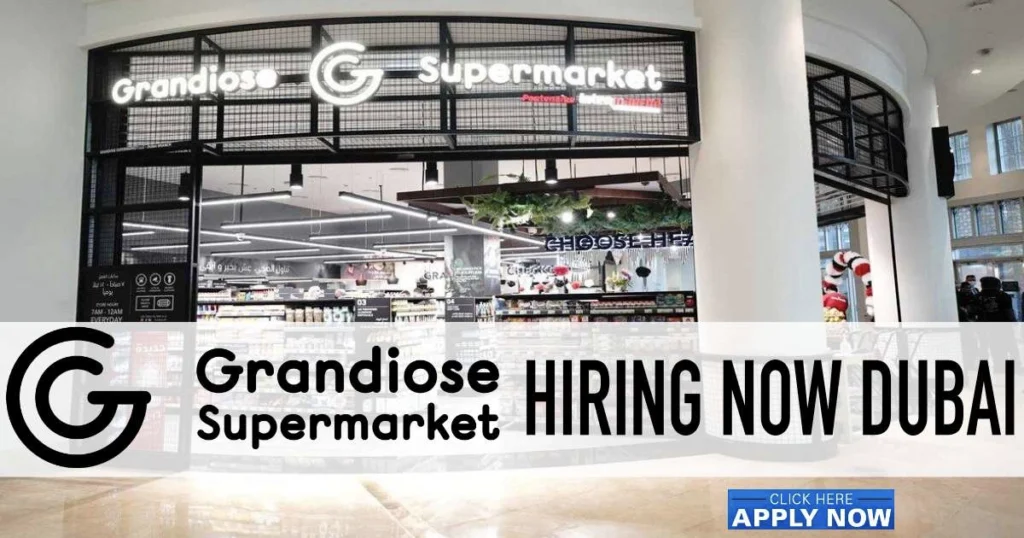 About Grandiose Supermarket
Are you looking for the most modern and reliable supermarket company? Great, because it has arrived! With locations in Dubai, Ras Al Khaimah, and Abu Dhabi, we guarantee you a wide range of options and the perfect shopping experience.
The great supermarket offers exciting career opportunities in various departments; apply for excellent jobs from the list below.
Grandiose grocery stores in Dubai and Ras Al Khaimah, Abu Dhabi, and Sharjah await you with a great shopping experience and great prices.
How to Apply for Grandiose Supermarket Careers?
Candidates can apply for Grandiose Supermarket Jobs from the list mentioned above. you can Click on the above Job title related to your experience and qualification. You will redirect to the official Grandiose Supermarket careers page and go ahead with your application.
Grandiose Supermarket Job Vacancies in UAE
| | | |
| --- | --- | --- |
| JOB TITLE | LOCATION | ACTION |
| Delivery Man | Dubai | APPLY |
| Packers | Dubai | APPLY |
| Delivery Driver | Dubai | APPLY |
| Arabic Baker | Abu Dhabi, Dubai, Ras al-Khaimah | APPLY |
| Sales Associate – Barista/ Coffeeshop | Abu Dhabi, Dubai, Ras al-Khaimah | APPLY |
| Sales Associate – Fresh Market Delicatessen | Abu Dhabi, Dubai, Ras al-Khaimah | APPLY |
| Butcher | Abu Dhabi, Dubai, Ras al-Khaimah | APPLY |
| Fishmonger | Abu Dhabi, Dubai, Ras al-Khaimah | APPLY |
| Storekeeper | Abu Dhabi, Dubai, Ras al-Khaimah | APPLY |
| Stock Receiver | Abu Dhabi, Dubai, Ras al-Khaimah | APPLY |
| PPC Specialist (Pay Per Click) | Dubai | APPLY |
| Packers | Abu Dhabi, Dubai, Ras al-Khaimah | APPLY |
| Last Mile Delivery Team Leader | Dubai | APPLY |
| Last Mile Delivery Supervisor | Dubai | APPLY |
| Jr Content Specialist | Dubai | APPLY |
| Fulfilment & Operations Supervisor | Dubai | APPLY |
| Fulfilment & Operations Supervisor | Dubai | APPLY |
| E-commerce Executive/ Coordinator | Dubai | APPLY |
| eCommerce Digital Analyst | Abu Dhabi, Dubai, Ras al-Khaimah | APPLY |
| Driver | Abu Dhabi, Dubai, Ras al-Khaimah, Sharjah | APPLY |
| Dispatcher & QA Agent | Abu Dhabi, Dubai | APPLY |
| Dispatcher & QA Agent | Abu Dhabi, Dubai | APPLY |
| Customer Support | Abu Dhabi, Dubai, Ras al-Khaimah | APPLY |
| Cashier | Abu Dhabi, Dubai, Ras al-Khaimah | APPLY |
| CCO Supervisor | Abu Dhabi, Dubai | APPLY |
Also Checkout Jobs at,