A pioneer in Asian hospitality is currently recruiting employees within its current team in the UAE. Shangri La Careers in Dubai & Abu Dhabi has posted openings for freshers and experienced. Click here to find out more details regarding the establishment and the vacancies open. To know more about this company and job location detail continue reading..
Checkout: Jobs in Hilton Hotels and Resorts UAE
Shangri La Job Details
Shangri La Careers UAE 2023 Announced Vacancies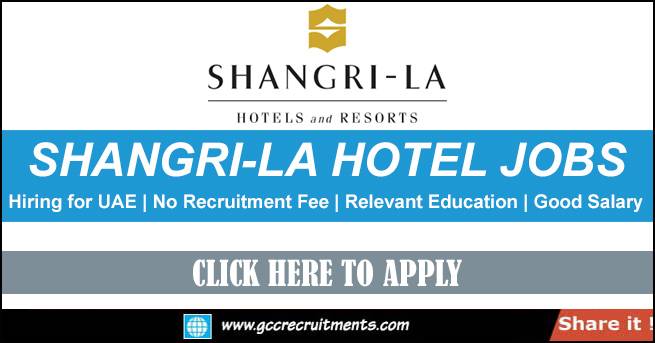 About Shangri La Group
As previously mentioned, Shangri La Group is one of the pioneers of Asian hospitality. They are well-known for their unending dedication to customer service. They have transformed the look of Asia's urban landscape and have shaped the way people interact and communicate with one another.
Eligibility Criteria
The hotel industry offers diverse career paths at various expertise levels.
Entry-level positions may have an age limit of 16+ and require a high school diploma. Such roles include cleaners, housemaids, housekeeping staff, laundry boys, drivers, and security staff.
Management level positions require at least a bachelor's degree in business, economics, or management.
Some hotels may require hotel management training and prior experience for management positions.
Other hotels prefer to train employees through their in-house programs.
Shangri La Careers for Hospitality
Shangri La Hotel Vacancies are open in various fields. There are jobs for skilled staff like laundry boys, electricians, plumbers, housekeeping and many more. At the same time, the hotel in Abu Dhabi has many sales jobs. Each job has varying education, experience, and expertise requirements to review the job description before applying carefully.
Checkout: Jobs in Burj Al Arab Dubai
How to Apply for Shangri La Hotel Careers ?
To apply for any of the listed vacancies with Shangri La Careers, you can apply by visiting "Apply Now" link mentioned below. You can apply with our updated resume or cv.
Shangri La Group Job Vacancies
| | | |
| --- | --- | --- |
| JOB TITLE | LOCATION | ACTION |
| Commis 1 (Afya Restaurant) | Abu Dhabi | Apply Now |
| Duty Manager | Abu Dhabi | Apply Now |
| Executive Pastry Chef | Abu Dhabi | Apply Now |
| Food & Beverage Operations Manager | Abu Dhabi | Apply Now |
| Front Office Agent (Service Associate) | Abu Dhabi | Apply Now |
| Front Office Agent (Service Associate) | Abu Dhabi | Apply Now |
| Front Office Agent (Service Leader) | Abu Dhabi | Apply Now |
| Hammam Therapist | Abu Dhabi | Apply Now |
| Horizon Club Supervisor | Abu Dhabi | Apply Now |
| Housekeeping Intern | Abu Dhabi | Apply Now |
| Marketing Coordinator | Abu Dhabi | Apply Now |
| Senior Chef De Partie (Afya Restaurant) | Abu Dhabi | Apply Now |
| Service Leader – Guest Relations Officer | Abu Dhabi | Apply Now |
| Service Leader (Food & Beverage) | Abu Dhabi | Apply Now |
| Spa Therapist | Abu Dhabi | Apply Now |
| Chef de Partie – Garde Manger | Dubai | Apply Now |
| Chef de Partie – Vietnamese Restaurant | Dubai | Apply Now |
| Chef de Partie (BBQ) – Shang Palace | Dubai | Apply Now |
| Chef de Partie (Chopper) – Shang Palace | Dubai | Apply Now |
| Commis 1 – All Day Dining | Dubai | Apply Now |
| Commis 1 – Pastry | Dubai | Apply Now |
| Commis 1 – Vietnamese Restaurant | Dubai | Apply Now |
| Demi Chef de Partie – Garde Manger | Dubai | Apply Now |
| Director of Health Club & Spa | Dubai | Apply Now |
| Food & Beverage Supervisor – Outdoor Bar & Lounge | Dubai | Apply Now |
| Guest Relations Executive – F&B (Outdoor Bar & Lounge) | Dubai | Apply Now |
| Health Club & Spa Supervisor | Dubai | Apply Now |
| Receiving Assistant | Dubai | Apply Now |
| Room Attendant | Dubai | Apply Now |
| Service Associate – Banquet Waiter | Dubai | Apply Now |
| Service Associate – Housing Officer | Dubai | Apply Now |
| Service Associate – Telephone Operator | Dubai | Apply Now |
| Service Associate – Waiter/Waitress (All Day Dining) | Dubai | Apply Now |
| Service Associate – Waiter/Waitress (Horizon Club) | Dubai | Apply Now |
| Service Associate – Waiter/Waitress (Outdoor Bar & Lounge) | Dubai | Apply Now |
| Service Associate – Waiter/Waitress (Room Service) | Dubai | Apply Now |
| Vice President, Human Resources (MEIA) | Dubai | Apply Now |
Checkout Jobs at,