Leading hospitality management company Teal Hospitality is headquartered in Dubai, United Arab Emirates. Teal Hospitality, which runs hotels, resorts, and eateries across the area, is committed to offering outstanding service to its visitors and promoting a healthy work environment for its staff.
A wide range of job options are offered by the organisation in departments like operations, sales and marketing, finance, human resources, and more. Teal Hospitality is dedicated to giving its staff the instruments and resources they require to be successful in their careers. All of the listed posts need to be filled either with a diploma or hotel management along with 2-3 years of experience. To know more about this company and job location detail continue reading "Apply for Teal Hospitality Dubai Careers Vacancies 2023."
Checkout: Starbucks Careers in Dubai
Teal Hospitality Job Details 2023
| | |
| --- | --- |
| Employer Name | Teal Hospitality |
| Job Location | Dubai, UAE |
| Nationality | Any Nationality |
| Education | Equivalent Degree/Diploma |
| Experience | Mandatory |
| Salary | Discuss During an Interview |
| Benefits | As Per UAE Labor Law |
| Last Updated On | 9th September 2023 |
Teal Hospitality Careers in Dubai Apply Online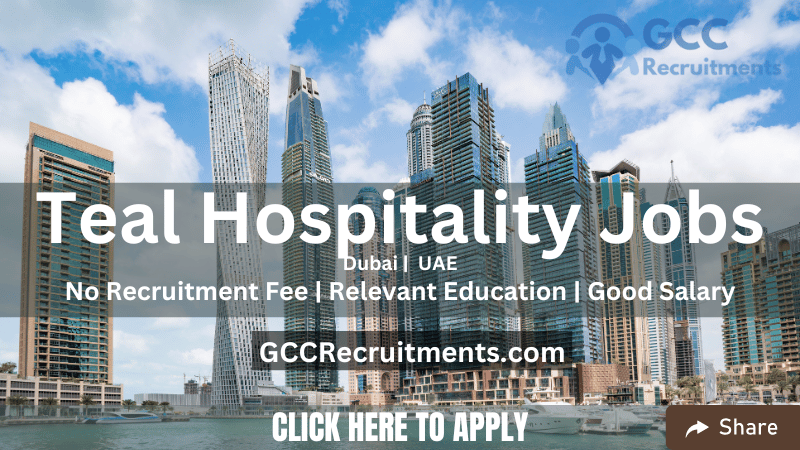 About Teal Hospitality
Teal Hospitality is devoted to fostering an atmosphere where each employee can succeed and values diversity and inclusivity in the workplace. The business offers a collaborative and encouraging work environment with room for advancement.
The company was established in 2012 and Teal Hospitality specializes in the management and advisory services of the hospitality sector. it is a free zone company that is under the DMCC authority located in JLT Dubai. While it is a relatively new business, our consultancy team has years of experience in providing advice to owners and operators in all of the Middle East.
Checkout: Pizza Hut Careers in Dubai
Teal Hospitality Jobs in Dubai
| JOB TITLE | LOCATION |
| --- | --- |
| Sales Manager Leisure | Dubai |
| Sales Manager GCC | Dubai |
| Junior Cost Controller | Dubai |
| Income Auditor | Dubai |
| Operation Supervisor | Dubai |
| Shift Leader | Dubai |
| Guest Service Agent Front Office | Dubai |
| Guest Service Agent Recreation | Dubai |
| Concierge | Dubai |
| Bellboy | Dubai |
| Senior Room Attendant | Dubai |
| Housekeeping Attendant | Dubai |
| Tailor | Dubai |
| Hostess | Dubai |
| Waitress | Dubai |
| Waiter | Dubai |
| Bartender | Dubai |
| Shisha Maker (Female) | Dubai |
| Demi Chef de Partie | Dubai |
| Commis II | Dubai |
| Kitchen Steward | Dubai |
| Engineering Coordinator | Dubai |
| Security Supervisor Jobs | Dubai |
| Security Attendant | Dubai |
Eligibility Criteria:
Having a solid experience either in Dubai or anywhere in the UAE.
Candidates availability inside UAE will only make them eligible to apply.
Checkout: Dunkin Donuts Careers in Dubai
How to Apply for Teal Hospitality Careers in Dubai?
To apply for a job at Teal Hospitality, candidates can visit the company's website and submit their resume and cover letter online. The company also participates in job fairs and recruitment events, so candidates are encouraged to check the website for upcoming opportunities.
Please read each question thoroughly before taking steps forward in applying.
1) Have you ever worked in the hotel industry?
2) Have you done Diploma or Hotel Management?
3) Do you have a positive attitude?
4) Do you really think you are suitable for this job?
If your answers in "Yes" then we will be happy to review your CV. Lets forward it by mentioning your name and position in the subject line. Example (Emma – Housekeeping). Only shortlisted candidates would be contacted.
To sum up, Teal Hospitality is a renowned Dubai-based hospitality management company that offers a variety of employment opportunities for professionals across several industries. The company emphasises diversity and inclusivity in the workplace while fostering a friendly and collaborative work environment for its employees. If you're considering a job in the hospitality sector, Teal Hospitality might be the ideal option for you.
Application Details For Teal Hospitality Dubai Jobs
Subject: Please specify "Applying Position" in the subject line.
Email CV: [email protected]
Apply for: