Medacs Healthcare Jobs in Dubai & Abu Dhabi | Opportunities in UAE: Medacs Healthcare is an international medical staffing provider offering full service recruitment solutions to both employers and candidates. We provide temporary and permanent positions throughout the world. If you're interested in joining our team, apply today!
Checkout: Healthcare jobs in Dubai
Medacs Healthcare Job Details
| | |
| --- | --- |
| Hospital Name | Medacs Healthcare |
| Job Location | Dubai, UAE |
| Nationality | Any Nationality |
| Education | Equivalent Degree |
| Experience | Mandatory |
| Salary Range | Depending Upon Position |
| Benefits | Excellent |
| Last Updated On | 29th September 2023 |
Medacs Healthcare Careers in Dubai & Abu Dhabi 2023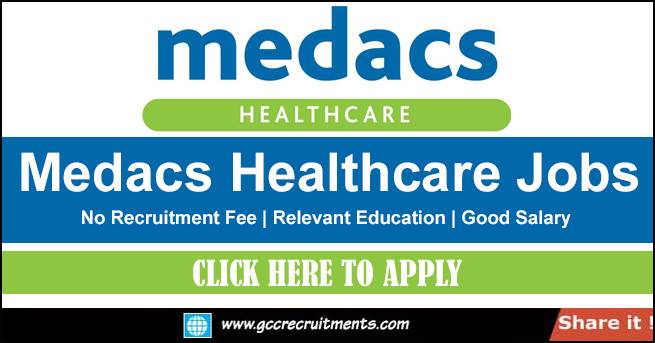 About Medacs Healthcare
A global healthcare staffing company called Medacs Global, which includes Medacs Healthcare, offers a range of career opportunities to medical professionals all over the world. From temporary roles through temp agencies and casual labour pools to full-time positions in a variety of disciplines, we provide a wide range of employment options. Regardless of whether a candidate is looking for temporary assistance, a change in career direction, or just a new employer, we are able to offer our clients the best individuals thanks to our adaptable strategy.
Checkout: Dubai London Hospital Careers
Medacs Healthcare Job Vacancies
| POSITION | LOCATION | APPLY LINK |
| --- | --- | --- |
| Paediatric Emergency Nurse - Abu Dhabi | Abu Dhabi | Apply Now |
| Senior/ Charge Rehabilitation Nurse - Al Ain | Abu Dhabi | Apply Now |
| NICU Nurse | Abu Dhabi | Apply Now |
| Paediatrics & Adult Rehabilitation vacancies - Al Ain | Abu Dhabi | Apply Now |
| Registered ICU Nurse - Al Ain | Abu Dhabi | Apply Now |
| Paediatric Emergency Nurse | Abu Dhabi | Apply Now |
| Paediatric ER Nurse | Abu Dhabi | Apply Now |
| Senior/ Charge ICU Nurse - Al Ain | Abu Dhabi | Apply Now |
| Physiotherapist | Abu Dhabi | Apply Now |
| Paediatric Emergency Nurse - Abu Dhabi | Abu Dhabi | Apply Now |
| Physiotherapist (Adult &/ Paediatrics) - Al Ain | Abu Dhabi | Apply Now |
| Fetal Nurse - Abu Dhabi | Abu Dhabi | Apply Now |
| Registered Midwife (Commmunity) - Abu Dhabi | Abu Dhabi | Apply Now |
| Community Midwife (Abu Dhabi) | Abu Dhabi | Apply Now |
| Respiratory Therapist (Al - Ain) | Abu Dhabi | Apply Now |
| Emergency Nurse Specialist (Paeds & Adults) - Abu Dhabi | Abu Dhabi | Apply Now |
| Senior Critical Care, Rehabilitation & Paediatric Nurses - UAE | Abu Dhabi | Apply Now |
| Consultant Dermatologist - Abu Dhabi | Abu Dhabi | Apply Now |
| Concurrent Review Nurse (Abu Dhabi) | Abu Dhabi | Apply Now |
| Paediatric & Adult Emergency Nurse | Abu Dhabi | Apply Now |
| NICU Nurse (Neonatal Intensive Care)- Abu Dhabi | Abu Dhabi | Apply Now |
| Dental Nurse - Abu Dhabi | Abu Dhabi | Apply Now |
| Consultant Dermatologist in Abu Dhabi! | Abu Dhabi | Apply Now |
| NICU Nurse (level 3 experience) - Abu Dhabi | Abu Dhabi | Apply Now |
| Paediatric Respiratory Nurse - Abu Dhabi | Abu Dhabi | Apply Now |
| Level 3 NICU Nurse - Abu Dhabi | Abu Dhabi | Apply Now |
| Paediatric Respiratory Nurse | Abu Dhabi | Apply Now |
| Dental Nurse (Abu Dhabi) | Abu Dhabi | Apply Now |
| Concurrent Review Nurse - Abu Dhabi | Abu Dhabi | Apply Now |
| Occupational Therapist (Adult &/ Paediatrics) - Al Ain | Abu Dhabi | Apply Now |
| PICU Nurse (Paediatric Intensive Care)- Abu Dhabi | Abu Dhabi | Apply Now |
| Paediatric Hospitalist | Abu Dhabi | Apply Now |
| Urgent Care Women's Health Nurse (western trained) - Abu Dhabi | Abu Dhabi | Apply Now |
| Paediatric Occupational Therapist | Abu Dhabi | Apply Now |
| Fetal Nurse Specialist - Abu Dhabi | Abu Dhabi | Apply Now |
| Occupational Therapist - Al-Ain | Abu Dhabi | Apply Now |
| Clinical Nurse specialist - Urgent Care Women's Health | Abu Dhabi | Apply Now |
| Fetal Nurse | Abu Dhabi | Apply Now |
| Non Invasive Cardiologist (Abu Dhabi) | Abu Dhabi | Apply Now |
| Clinical Psychologist (child & adolescent) | Abu Dhabi | Apply Now |
| Senior Embryologist & Quality Manager - Abu Dhabi | Abu Dhabi | Apply Now |
| Paediatric Respiratory Nurse Specialist - Abu Dhabi | Abu Dhabi | Apply Now |
| Concurrent Review Nurse - Abu Dhabi | Abu Dhabi | Apply Now |
| Consultant Paediatric Emergency Medicine - Abu Dhabi | Abu Dhabi | Apply Now |
| Paediatric Orthopaedic Nurse - Abu Dhabi | Abu Dhabi | Apply Now |
| Paediatric Occupational Therapist - Abu Dhabi | Abu Dhabi | Apply Now |
| Paediatric Orthopaedics Nurse Specialist - Abu Dhabi | Abu Dhabi | Apply Now |
| Consultant Cosmetic Dermatologist - Dubai | Abu Dhabi | Apply Now |
| Consultant Non Invasive Cardiology (outpatient) - Abu Dhabi | Abu Dhabi | Apply Now |
| Women's Health Nurse - Abu Dhabi | Abu Dhabi | Apply Now |
| Consultant Anaesthetist (Female) - Al Ain | Abu Dhabi | Apply Now |
| Fetal Medicine Consultant (Abu Dhabi) | Abu Dhabi | Apply Now |
| Senior/Clinical Nurse Specialist - Paediatric Orthopaedics | Abu Dhabi | Apply Now |
| Physical and Rehabilitation Consultant - Abu Dhabi | Abu Dhabi | Apply Now |
| Clinical Psychologist specialising in Pain - Abu Dhabi! | Abu Dhabi | Apply Now |
| Paediatric Intensivist - Abu Dhabi | Abu Dhabi | Apply Now |
| Paediatric Orthopaedics Nurse Specialist - Abu Dhabi | Abu Dhabi | Apply Now |
| Clinical Psychologist Specialising in Pain (Abu Dhabi) | Abu Dhabi | Apply Now |
| Non-Invasive Cardiologist Consultant - Abu Dhabi | Abu Dhabi | Apply Now |
| Clinical Nurse Specialist in Urgent Care Women's Health | Abu Dhabi | Apply Now |
| Senior/CNS Paediatric Neurology Nurse | Abu Dhabi | Apply Now |
| Speech and Language Therapist (Adult &/ Paediatrics) - Al Ain | Abu Dhabi | Apply Now |
| Consultant ENT - Thyroid Experience (Abu Dhabi) | Abu Dhabi | Apply Now |
| Paediatric Neurology Nurse - Abu Dhabi | Abu Dhabi | Apply Now |
| Consultant paediatric Intensivist- Abu Dhabi! | Abu Dhabi | Apply Now |
| Consultant Non-Invasive Cardiologist - Abu Dhabi | Abu Dhabi | Apply Now |
| Clinical Psychologist (Eating Disorders) - Abu Dhabi | Abu Dhabi | Apply Now |
| Clinical Pain Psychologist - Abu Dhabi | Abu Dhabi | Apply Now |
| Paediatric Neurology Nurse - Abu Dhabi | Abu Dhabi | Apply Now |
| Consultant Paediatrician (Out-patient) - Abu Dhabi | Abu Dhabi | Apply Now |
| Paediatric Intensive Care Consultant (Intensivist)-Abu Dhabi | Abu Dhabi | Apply Now |
| Obstetric Anaesthesiologist (Abu Dhabi) | Abu Dhabi | Apply Now |
| Fetal Medicine Consultant - Abu Dhabi | Abu Dhabi | Apply Now |
| Consultant Dermatologist - Aesthetic & Medical (Abu Dhabi) | Abu Dhabi | Apply Now |
| Fetal Medicine Consultant - Abu Dhabi | Abu Dhabi | Apply Now |
| Consultant ENT | Abu Dhabi | Apply Now |
| Paediatric Anaesthesiologist ( Abu Dhabi ) | Abu Dhabi | Apply Now |
| Paediatric Speech and Language Therapist - Abu Dhabi | Abu Dhabi | Apply Now |
| Paediatric Radiology Consultant | Abu Dhabi | Apply Now |
| Consultant Paediatric Radiologist - Abu Dhabi | Abu Dhabi | Apply Now |
| Consultant Paediatric Radiologist - Abu Dhabi | Abu Dhabi | Apply Now |
| Fetal Nurse (Senior/Clinical Nurse Specialist) | Abu Dhabi | Apply Now |
| Consultant Paediatric Intensivist (PICU) - Abu Dhabi | Abu Dhabi | Apply Now |
| Consultant Paediatric Radiologist - Abu Dhabi | Abu Dhabi | Apply Now |
| Consultant Paediatric Anaesthetist - Abu Dhabi | Abu Dhabi | Apply Now |
| Consultant Paediatric Gastroenterologist - Abu Dhabi | Abu Dhabi | Apply Now |
| Consultant Paediatric ICU | Abu Dhabi | Apply Now |
| Consultant Paediatric Orthopaedics | Abu Dhabi | Apply Now |
| Paediatric Orthopaedics Consultant - Abu Dhabi | Abu Dhabi | Apply Now |
| Consultant Vacular Surgeon - Abu Dhabi | Abu Dhabi | Apply Now |
| Consultant Paediatric Anaesthetist - Abu Dhabi | Abu Dhabi | Apply Now |
| Fetal Medicine Consultant | Abu Dhabi | Apply Now |
| Paediatric Neurology Nurse Specialist - Abu Dhabi | Abu Dhabi | Apply Now |
| Consultant Paediatric Anaesthetist - Abu Dhabi | Abu Dhabi | Apply Now |
| Paediatric ENT (Otolaryngology) Consultant - Abu Dhabi/ Dubai | Dubai | Apply Now |
| Consultant Obstetrics and Gynecology (Abu Dhabi) | Abu Dhabi | Apply Now |
| Consultant Paediatric Neurologist - Abu Dhabi | Abu Dhabi | Apply Now |
| Consultant Paediatric Radiology | Abu Dhabi | Apply Now |
| Consultant Neonatologist - NICU (Abu Dhabi) | Abu Dhabi | Apply Now |
| Paediatric Dentist | Abu Dhabi | Apply Now |
| Consultant Vascular Surgery | Abu Dhabi | Apply Now |
| Consultant Orthopaedic Surgeon (Shoulder) - Abu Dhabi | Abu Dhabi | Apply Now |
| Consultant Paediatric Nephrologist - Abu Dhabi | Abu Dhabi | Apply Now |
| Consultant Paediatric & Neonatal Surgeon - Abu Dhabi! | Abu Dhabi | Apply Now |
| Consultant Paediatric Nephrologist - Abu Dhabi | Abu Dhabi | Apply Now |
| Consultant Neurologist - Abu Dhabi | Abu Dhabi | Apply Now |
| Paediatric Nephrologist (Abu Dhabi) | Abu Dhabi | Apply Now |
| Consultant Neurology | Abu Dhabi | Apply Now |
| Consultant Paediatric Anaesthetist | Abu Dhabi | Apply Now |
| Consultant Paediatric Neurologist - Abu Dhabi | Abu Dhabi | Apply Now |
| Consultant Neurologist - Abu Dhabi | Abu Dhabi | Apply Now |
| Consultant Paediatric and Neonatal Surgeon - Abu Dhabi | Abu Dhabi | Apply Now |
| Consultant Neonatologist (NICU) -Abu Dhabi | Abu Dhabi | Apply Now |
| Consultant Paediatric and Neonatal Surgeon - Abu Dhabi | Abu Dhabi | Apply Now |
| Paediatric Respiratory Consultant / Pulmonologist - Abu Dhabi | Abu Dhabi | Apply Now |
| Consultant Paediatric Pulmonology | Abu Dhabi | Apply Now |
| Consultant Paediatric Orthopaedic Surgeon - Abu Dhabi! | Abu Dhabi | Apply Now |
| Consultant Paediatric Neurology | Abu Dhabi | Apply Now |
| Consultant Vascular Surgeon - Abu Dhabi | Abu Dhabi | Apply Now |
| Consultant Paediatric Pulmonology | Abu Dhabi | Apply Now |
| Consultant Vascular Surgeon in Abu Dhabi! | Abu Dhabi | Apply Now |
| Obstetrics and Gynaecology Consultant - Abu Dhabi | Abu Dhabi | Apply Now |
| Consultant Orthopaedic Paediatric Surgeon - Abu Dhabi | Abu Dhabi | Apply Now |
| Paediatric Orthopaedic Surgeon (Abu Dhabi) | Abu Dhabi | Apply Now |
| Vascular Surgeon ( Abu Dhabi ) | Abu Dhabi | Apply Now |
| Paediatric Pulmonologist (Abu Dhabi) | Abu Dhabi | Apply Now |
| Consultant Neurologist - EEG experience (Abu Dhabi) | Abu Dhabi | Apply Now |
| ENT (Otolaryngology) Consultant Surgeon - Abu Dhabi | Abu Dhabi | Apply Now |
Checkout Jobs at,