Visit Saudi German Hospital Careers to learn about fascinating opportunities. Join a renowned hospital offering diverse career opportunities in administration, staff nursing, medicine, allied health, patient care, and more. Choose a profession that makes you happy and that puts your skills and enthusiasm to good use by helping others. Join a dedicated team committed to delivering excellent healthcare. Explore professional growth opportunities in a challenging environment. Apply at once.
Saudi German Hospital offers diverse job opportunities in Dubai, Sharjah, and Ajman. Explore roles in Administration, Nursing, Doctors, Allied Healthcare Professionals, and Patient Care.
Checkout: American Hospital Careers in Dubai
| | |
| --- | --- |
| Hospital Name | Saudi German Hospital |
| Job Location | Dubai, Sharjah & Ajman |
| Nationality | Any Nationality |
| Education | Equivalent Degree/Diploma Holders |
| Experience | Mandatory |
| Salary | Discuss During an Interview |
| Benefits | As Per UAE Labor Law |
| Last Updated on | 10th November 2023 |
Saudi German Hospital Careers in Dubai & Ajman New Vacancies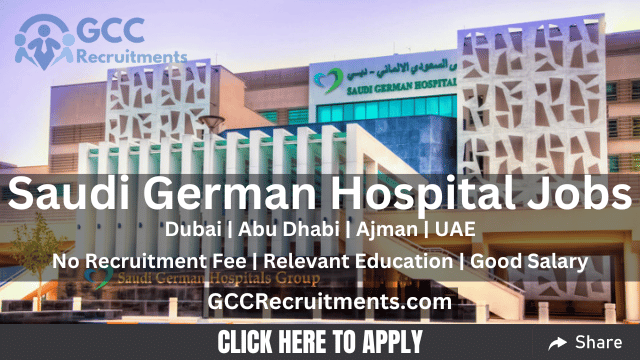 About Saudi German Hospital
Saudi German Hospital, abbreviated as SGH, inaugurated its initial hospital in Jeddah, KSA, in 1988. In the beginning, there was a scarcity of advanced medical facilities, but the situation gradually improved. Therefore, many patients from Saudi Arabia travel to Germany to receive the best possible treatment.
At the time, SGH was the only hospital there to take its own place, show its presence and advocate first-class medical treatment. The hospital, having overcome numerous challenges, now operates across the Middle East and North Africa.
Salary & Benefits at Saudi German Hospital
Employees receive competitive pay packages based on their qualifications, experience, and job responsibilities.
Employees of Saudi German Hospital are eligible for health insurance, which also covers dependents.
Under UAE labor laws, employees enjoy paid yearly, sick, and public holiday leave.
Saudi German Hospital offers apartments or a housing allowance to its employees based on their level and position.
Employees may be eligible for airline tickets and relocation aid based on their position and level.
Employers offer opportunities for professional growth to their employees through training programs and courses.
Saudi German Hospital also provides a secure and healthy work environment, prioritizing work-life balance and employee well-being.
Eligibility Criteria:
Applicants must meet the educational and professional requirements for the position they are applying for.
A valid passport and all other necessary documentation are prerequisites for applicants.
Proficiency in English is essential, and knowledge of other languages is advantageous.
Strong teamwork, excellent personal, and communication skills are essential for applicants.
Candidates should be flexible and able to work in a challenging environment where priorities change.
Candidates must show empathy and understanding towards patients and their families, emphasizing a dedication to providing high-quality care.
Additionally, they must have a comprehensive understanding of the healthcare industry and stay updated on medical procedures and technologies.
Checkout: Canadian Hospital Careers in Dubai
How to Apply for Saudi German Hospital Careers?
For Saudi German Hospital Careers in Dubai, those meeting eligibility criteria can pursue careers in hospitals in Saudi Arabia. We're always here to offer you a fulfilling career path. Open the above-mentioned places and you would like to know more about the possibilities. Then you can call us at the following number.
List of Available Job Vacancies:
Checkout: NMC Healthcare Careers Dubai
Job Application Details:
Subject: Please specify "Applying Position" in the subject line.
Email CV For Ajman: [email protected]
Email CV For Dubai: [email protected]
Checkout Jobs at,