Explore LuLu International Exchange Careers for 2023 Apply online: Find the most recent job openings at the international exchange of LuLu located in Dubai, UAE. Get the most recent updates on our platform on Lulu International Exchange career opportunities for 2023.
LuLu International Exchange is a leading financial services company headquartered in Abu Dhabi, United Arab Emirates. The company provides an extensive list of financial services to individuals and businesses in the UAE and other countries, including currency exchange, remittance, and payroll solutions. LuLu International Exchange has a variety of employment positions for educated and dedicated individuals who wish to work for an established firm.
Customer service representatives, sales executives, financial and accounting professionals, IT specialists, and marketers are just a few of the positions available in Dubai through LuLu International Exchange. The company values diversity and inclusivity, and is committed to providing equal opportunities for all employees. To know more about this company and job location detail continue reading "LuLu International Exchange Jobs".
Checkout: Al Ansari Exchange Careers in Dubai
LuLu International Exchange Job Details
| | |
| --- | --- |
| Employer Name | LuLu International Exchange |
| Job Location | Dubai, UAE |
| Experience | 4 Years |
| Qualification | Any Graduation |
| Salary | Not Specified |
| Nationality | Any Nationality |
| Last Updated On | 11th September 2023 |
LuLu International Exchange Careers in Dubai UAE 2023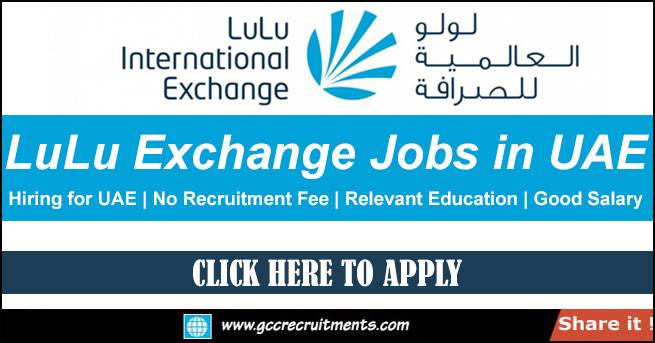 Lulu Exchange Careers
LuLu International Exchange Jobs and Careers: One of the key benefits of working at LuLu International Exchange is the opportunity to work in a dynamic and fast-paced environment. The company is constantly expanding its operations and introducing new products and services, which means there are always new challenges and opportunities for growth. LuLu International Exchange also provides its employees with ongoing training and development programs to enhance their skills and knowledge.
Another benefit of working at LuLu International Exchange is the competitive compensation and benefits package. The company offers competitive salaries, health insurance, and other benefits such as transportation allowance and annual leave.
About Lulu Exchange
In the past 100 years, Gulf and Middle-Eastern countries have seen a surge of growth, development, and opportunities in various aspects. Most importantly, Dubai is the most desired destination for highly skilled and experienced job-seekers. It is the dream for every person who wants to be employed in Dubai, The land of endless opportunities.
Checkout: ADCB Careers in Dubai
How to Apply for LuLu International Exchange Jobs?
To apply for LuLu International Exchange Jobs, follow these steps:
Visit the LuLu International Exchange website and navigate to the Careers section.
Browse through the list of available job vacancies and select the position that matches your skills and experience.
Click on the job title to view the job description, responsibilities, and requirements.
If you meet the qualifications and requirements for the position, click on the "Apply Now" button.
Fill in the online application form with your personal details, educational qualifications, work experience, and skills.
Upload your resume and cover letter in PDF format.
Review your application to ensure that all information is accurate and complete.
Click on the "Submit" button to send your application.
Alternatively, you can send your resume and cover letter to the email address provided on the LuLu International Exchange website. Make sure to specify the job title and reference number in the subject line of your email.
After submitting your application, you may be contacted for an interview if you are shortlisted for the position. It is important to prepare for the interview by researching the company, practicing your responses to common interview questions, and dressing professionally. Good luck!
Available Job Vacancies in LuLu Exchange Dubai
Position: Project Manager
Industry: Financial Services
Position Type: Full time
Years of Experience: At least 4 years
Requirements:
Excellent stress management
Excellent organizational and planning skills
To be rigorous with every member of the team to ensure the quality and the running of the projects.
To be able to work as a team in a dynamic environment.
Autonomy, strong team spirit and positive attitude required.
Apply For: